Elamipretide - CAS 736992-21-5
Elamipretide(CAT: I004736) is a cardiolipin peroxidase inhibitor and a mitochondria-targeting peptide that improves Left Ventricular and Mitochondrial Function. Elamipretide can alleviate mitochondrial dysfunction and oxidative damage in human trabecular meshwork cells. This product is mainly used in medical research and development and other scientific research purposes.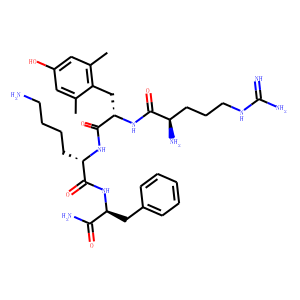 Molecular Formula: C32H49N9O5
Molecular Weight:639.79
Purity: ≥95%
Inventory:In stock!
* For research use only. Not for human or veterinary use.
Synonym
Property
| | |
| --- | --- |
| Molecular Formula: | C32H49N9O5 |
| Molecular Weight | 639.79 |
| Target: | cardiolipin peroxidase inhibitor |
| Solubility | DMSO ≥ 29 mg/mL |
| Purity | ≥95% |
| Storage | -20°C |
| Overview of Clinical Research | <span style="color:#000000;"><span style="font-family:arial,helvetica,sans-serif;"><span style="font-size:12px;">Elamipretide is a c<span style="font-variant-ligatures: normal; orphans: 2; widows: 2;">ardiolipin modulator and a free radical scavenger as well as a mitochondrial permeability transition pore inhibitor. It has been granted for the orphan drug status in&nbsp;</span><span style="font-variant-ligatures: normal; orphans: 2; widows: 2;">Mitochondrial myopathies, Leber&#39;s hereditary optic atrophy and Barth syndrome.&nbsp;</span>The Phase II clinical trials for the treatment of Chronic heart failure and Mitochondrial myopathies are ongoing.</span></span></span> |
Computed Descriptor
| | |
| --- | --- |
| IUPAC Name | (2S)-6-amino-2-[[(2S)-2-[[(2R)-2-amino-5-(diaminomethylideneamino)pentanoyl]amino]-3-(4-hydroxy-2,6-dimethylphenyl)propanoyl]amino]-N-[(2S)-1-amino-1-oxo-3-phenylpropan-2-yl]hexanamide |
| InChI | InChI=1S/C32H49N9O5/c1-19-15-22(42)16-20(2)23(19)18-27(41-29(44)24(34)11-8-14-38-32(36)37)31(46)39-25(12-6-7-13-33)30(45)40-26(28(35)43)17-21-9-4-3-5-10-21/h3-5,9-10,15-16,24-27,42H,6-8,11-14,17-18,33-34H2,1-2H3,(H2,35,43)(H,39,46)(H,40,45)(H,41,44)(H4,36 |
| InChIKey | SFVLTCAESLKEHH-WKAQUBQDSA-N |
| SMILES | O=C(N)[C@H](CC1=CC=CC=C1)NC([C@H](CCCCN)NC([C@H](CC2=C(C)C=C(O)C=C2C)NC([C@@H](CCCNC(N)=N)N)=O)=O)=O |