EGFR-IN-11- CAS 2463200-44-2
EGFR-IN-11 is a fourth-generation EGFR-tyrosine kinase inhibitor (EGFR-TKI) with an IC50 of 18 nM for triple mutant EGFRL858R/T790M/C797S. EGFR-IN-11 significantly suppresses the EGFR phosphorylation, induce the apoptosis, and arrest cell cycle at G0/G1[1].
EGFR-IN-11 (Compound D9; 0.0001-10 µM; 72 hours) shows significantly potent anti-proliferation against HCC827 and H1975 cell lines with IC50s of 0.88 nM and 0.20 µM, respectively[1].
EGFR-IN-11 (0.01-1.00 µM for HCC827 cells; 0.1-10.00 µM for H1975 and A549 cells; 8 hours) suppresses EGFR phosphorylation in a concentration-dependent manner in the HCC827, H1975 and A549 cell line[1].
EGFR-IN-11 (1 µM; 24 h) potently induces the apoptosis of HCC827 cells.[1]
EGFR-IN-11 (1 µM; 24 h) induces cell cycle arrests in HCC827 cell[1].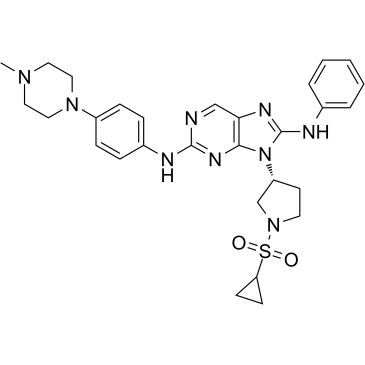 Molecular Formula: C₂₉H₃₅N₉O₂S
Molecular Weight:573.71
* For research use only. Not for human or veterinary use.
Property
| | |
| --- | --- |
| Molecular Formula: | C₂₉H₃₅N₉O₂S |
| Molecular Weight | 573.71 |
| Purity | ≥95% |