EGFR-IN-11 - CAS 2463200-44-2
EGFR-IN-11 (Cat No.:I017547) is a potent and selective inhibitor of epidermal growth factor receptor (EGFR) tyrosine kinase, with an IC50 of 3.1 nM. It shows excellent selectivity against other related kinases such as HER2, HER4, and VEGFR-2. EGFR-IN-11 has been reported to induce growth arrest and apoptosis in EGFR-dependent tumor cells and suppress tumor growth in xenograft models. It may be a potential therapeutic agent for the treatment of EGFR-dependent cancers.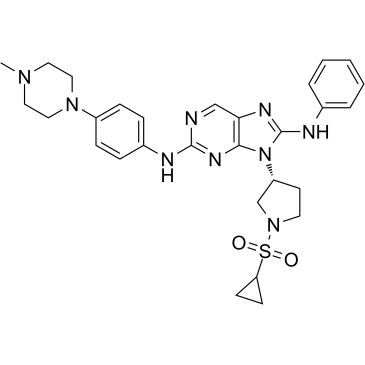 Molecular Formula: C₂₉H₃₅N₉O₂S
Molecular Weight:573.71
* For research use only. Not for human or veterinary use.
Property
| | |
| --- | --- |
| Molecular Formula: | C₂₉H₃₅N₉O₂S |
| Molecular Weight | 573.71 |
| Purity | ≥95% |
| Storage | Store at -20°C |
Computed Descriptor
| | |
| --- | --- |
| IUPAC Name | 9-[(3R)-1-cyclopropylsulfonylpyrrolidin-3-yl]-2-N-[4-(4-methylpiperazin-1-yl)phenyl]-8-N-phenylpurine-2,8-diamine |
| InChI | InChI=1S/C29H35N9O2S/c1-35-15-17-36(18-16-35)23-9-7-22(8-10-23)31-28-30-19-26-27(34-28)38(29(33-26)32-21-5-3-2-4-6-21)24-13-14-37(20-24)41(39,40)25-11-12-25/h2-10,19,24-25H,11-18,20H2,1H3,(H,32,33)(H,30,31,34)/t24-/m1/s1 |
| InChIKey | RNEHWYIFHKBZAW-XMMPIXPASA-N |
| SMILES | CN1CCN(CC1)C2=CC=C(C=C2)NC3=NC=C4C(=N3)N(C(=N4)NC5=CC=CC=C5)C6CCN(C6)S(=O)(=O)C7CC7 |