(E)-1-Phenyl-1-butene - CAS 1005-64-7
(E)-1-Phenyl-1-butene(CAT: R044714) is a common α-β-unsaturated aromatic compound that is often used as a reagent in organic synthesis experiments for the preparation of pharmaceutical intermediates. This product is used in organic synthesis, pharmaceutical research and development, and other scientific research fields.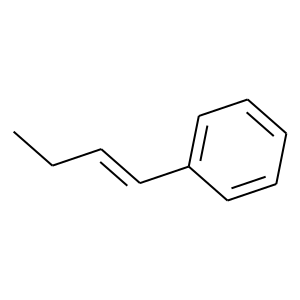 Molecular Formula: C10H12
Molecular Weight:132.206
* For research use only. Not for human or veterinary use.
Synonym
| | |
| --- | --- |
| Synonyms | (1E)-1-Buten-1-yl-benzene; (1E)-1-Butenyl-benzene; (E)-1-Butenyl-benzene; (E)-But-1-en-1-ylbenzene; trans-1-Phenyl-1-butene; trans-β-Ethylstyrene |
Property
| | |
| --- | --- |
| Molecular Formula: | C10H12 |
| Molecular Weight | 132.206 |
| Purity | ≥95% |
| Storage | -20°C |
Computed Descriptor
| | |
| --- | --- |
| IUPAC Name | [(E)-but-1-enyl]benzene |
| InChI | InChI=1S/C10H12/c1-2-3-7-10-8-5-4-6-9-10/h3-9H,2H2,1H3/b7-3+ |
| InChIKey | MPMBRWOOISTHJV-XVNBXDOJSA-N |
| SMILES | CCC=CC1=CC=CC=C1 |