DT2216 - CAS 2365172-42-3
DT2216(CAT: I017384) is a Bcl-xl-targeting drug conjugate. Bcl-xl is an anti-apoptotic protein that plays a key role in promoting cell survival and resistance to chemotherapy in cancer cells. DT2216 works by selectively binding to Bcl-xl and inducing its degradation, which leads to apoptosis and cell death in cancer cells. DT2216 has shown promising results in preclinical studies, particularly in the treatment of hematological malignancies and solid tumors. It has been found to be effective in overcoming resistance to chemotherapy and targeted therapies. DT2216 is currently undergoing clinical trials to evaluate its safety and efficacy in humans.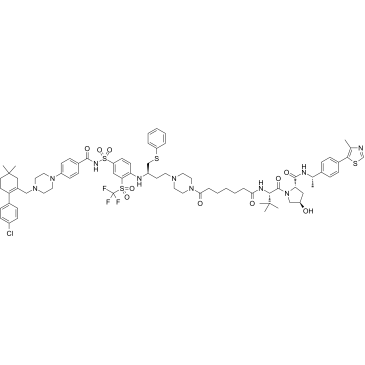 Molecular Formula: C₇₇H₉₆ClF₃N₁₀O₁₀S₄
Molecular Weight:1542.36
* For research use only. Not for human or veterinary use.
Property
| | |
| --- | --- |
| Molecular Formula: | C₇₇H₉₆ClF₃N₁₀O₁₀S₄ |
| Molecular Weight | 1542.36 |
| Purity | ≥95% |