DPA-714 - CAS 958233-07-3
DPA-714 (CAS 958233-07-3) is a selective ligand for the translocator protein (TSPO) currently under evaluation for several clinical applications.It is also a PET tracer binding the TSPO receptor and highly expressed in myeloid cells.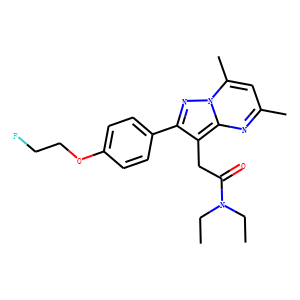 Molecular Formula: C22H27FN4O2
Molecular Weight:398.47
* For research use only. Not for human or veterinary use.
Synonym
| | |
| --- | --- |
| Synonyms | N,N-Diethyl-2-(2-(4-(2-fluoro-1-ethoxy)phenyl)- 5,7-dimethylpyrazolo[1,5-a]pyrimidin-3-yl)acetamide |
Property
| | |
| --- | --- |
| Molecular Formula: | C22H27FN4O2 |
| Molecular Weight | 398.47 |
| Purity | ≥95% |
Computed Descriptor
| | |
| --- | --- |
| IUPAC Name | N,N-diethyl-2-[2-[4-(2-fluoroethoxy)phenyl]-5,7-dimethylpyrazolo[1,5-a]pyrimidin-3-yl]acetamide |
| InChI | InChI=1S/C22H27FN4O2/c1-5-26(6-2)20(28)14-19-21(17-7-9-18(10-8-17)29-12-11-23)25-27-16(4)13-15(3)24-22(19)27/h7-10,13H,5-6,11-12,14H2,1-4H3 |
| InChIKey | FLZZFWBNYJNHMY-UHFFFAOYSA-N |
| SMILES | CCN(CC)C(=O)CC1=C2N=C(C=C(N2N=C1C3=CC=C(C=C3)OCCF)C)C |