Docetaxel - CAS 114977-28-5
Docetaxel (CAS 114977-28-5), also known as RP-56976, is a semi-synthetic, second-generation taxane derived from a compound found in the European yew tree Taxus baccata. Docetaxel displays potent and broad antineoplastic properties; it binds to and stabilizes tubulin, thereby inhibiting microtubule disassembly which results in cell- cycle arrest at the G2/M phase and cell death. This agent also inhibits pro-angiogenic factors such as vascular endothelial growth factor (VEGF) and displays immunomodulatory and pro-inflammatory properties by inducing various mediators of the inflammatory response. Docetaxel has been studied for use as a radiation-sensitizing agent.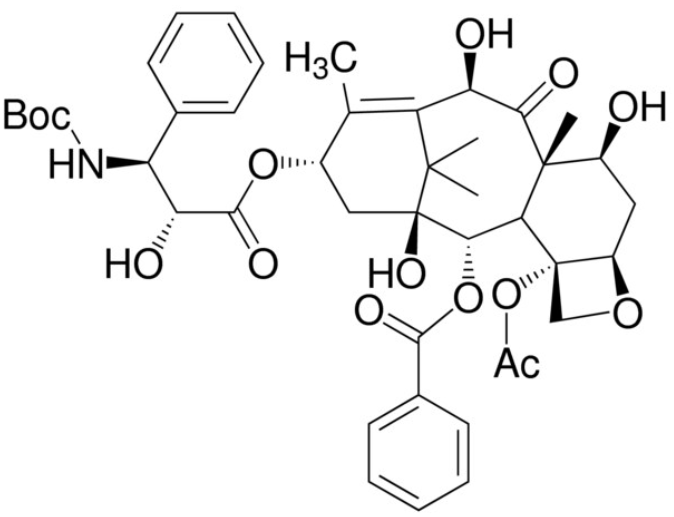 Molecular Formula: C₄₃H₅₃NO₁₄
Molecular Weight:807.88
* For research use only. Not for human or veterinary use.
Synonym
| | |
| --- | --- |
| Synonyms | RP56976, NSC 628503 |
Property
| | |
| --- | --- |
| Molecular Formula: | C₄₃H₅₃NO₁₄ |
| Molecular Weight | 807.88 |
| Target: | Microtubule/Tubulin |
| Solubility | >40.4mg/mL in DMSO |
| Purity | ≥95% |
| Storage | -20°C |
| MDL | MFCD00800737 |
Computed Descriptor
| | |
| --- | --- |
| IUPAC Name | [(1S,2S,3R,4S,7R,9S,10S,12R,15S)-4-acetyloxy-1,9,12-trihydroxy-15-[(2R,3S)-2-hydroxy-3-[(2-methylpropan-2-yl)oxycarbonylamino]-3-phenylpropanoyl]oxy-10,14,17,17-tetramethyl-11-oxo-6-oxatetracyclo[11.3.1.03,10.04,7]heptadec-13-en-2-yl] benzoate |
| InChI | InChI=1S/C43H53NO14/c1-22-26(55-37(51)32(48)30(24-15-11-9-12-16-24)44-38(52)58-39(3,4)5)20-43(53)35(56-36(50)25-17-13-10-14-18-25)33-41(8,34(49)31(47)29(22)40(43,6)7)27(46)19-28-42(33,21-54-28)57-23(2)45/h9-18,26-28,30-33,35,46-48,53H,19-21H2,1-8H3,(H,44, |
| InChIKey | ZDZOTLJHXYCWBA-VCVYQWHSSA-N |
| SMILES | CC1=C2C(C(=O)C3(C(CC4C(C3C(C(C2(C)C)(CC1OC(=O)C(C(C5=CC=CC=C5)NC(=O)OC(C)(C)C)O)O)OC(=O)C6=CC=CC=C6)(CO4)OC(=O)C)O)C)O |