Dioctylamine- CAS 1120-48-5
Dioctylamine (Cat No.:R026412) is an intermediate for the preparation of antistatic agent, softener, surfactant and fungicide with excellent performance, besides, it can also be used as intermediate of corrosion inhibitor, intermediate of metal extractant and hydraulic fluid, etc.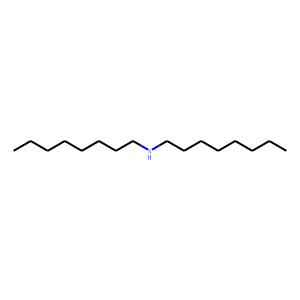 Catalog Number: R026412
CAS Number: 1120-48-5
PubChem Substance ID:355162446
Molecular Formula: C16H35N
Molecular Weight:241.463
Purity: ≥95%
* For research use only. Not for human or veterinary use.
Synonym
| | |
| --- | --- |
| Synonyms | N-Octyl-1-octanamine; Di-n-Octylamine; N,N-Dioctylamine; N-n-Octyl-n-octylamine; NSC 1765; RC 5632 |
Property
| | |
| --- | --- |
| Molecular Formula: | C16H35N |
| Molecular Weight | 241.463 |
| Purity | ≥95% |
| Storage | -20°C |
Computed Descriptor
| | |
| --- | --- |
| IUPAC Name | N-octyloctan-1-amine |
| InChI | InChI=1S/C16H35N/c1-3-5-7-9-11-13-15-17-16-14-12-10-8-6-4-2/h17H,3-16H2,1-2H3 |
| InChIKey | LAWOZCWGWDVVSG-UHFFFAOYSA-N |
| SMILES | CCCCCCCCNCCCCCCCC |