Dihexa - CAS 1401708-83-5
Dihexa(CAT: R029524) is an oligopeptide derived from angiotensin Ⅳ. It has a high affinity with hepatocyte growth factor and therefore has good binding activity to the C-Met receptor. Currently, it is mainly used in the research of adjunctive therapy for Alzheimer's disease. This product is used for medical research and development and other scientific research purposes.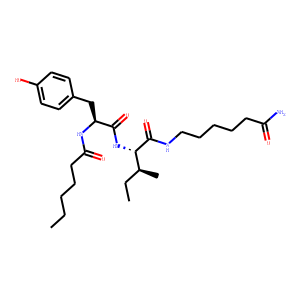 Molecular Formula: C27 H44 N4 O5
Molecular Weight:504.66
* For research use only. Not for human or veterinary use.
Synonym
| | |
| --- | --- |
| Synonyms | N-(1-Oxohexyl)-L-tyrosyl-N-(6-amino-6-oxohexyl)-L-isoleucinamide |
Property
| | |
| --- | --- |
| Molecular Formula: | C27 H44 N4 O5 |
| Molecular Weight | 504.66 |
| Purity | ≥95% |
| Storage | Desiccate at +4C |
Computed Descriptor
| | |
| --- | --- |
| IUPAC Name | (2S,3S)-N-(6-amino-6-oxohexyl)-2-[[(2S)-2-(hexanoylamino)-3-(4-hydroxyphenyl)propanoyl]amino]-3-methylpentanamide |
| InChI | InChI=1S/C27H44N4O5/c1-4-6-8-12-24(34)30-22(18-20-13-15-21(32)16-14-20)26(35)31-25(19(3)5-2)27(36)29-17-10-7-9-11-23(28)33/h13-16,19,22,25,32H,4-12,17-18H2,1-3H3,(H2,28,33)(H,29,36)(H,30,34)(H,31,35)/t19-,22-,25-/m0/s1 |
| InChIKey | XEUVNVNAVKZSPT-JTJYXVOQSA-N |
| SMILES | O=C(N)CCCCCNC([C@@H](NC([C@@H](NC(CCCCC)=O)CC1=CC=C(O)C=C1)=O)[C@@H](C)CC)=O |