Desmethylnortriptyline - CAS 4444-42-2
Desmethylnortriptyline(CAT: R030500) is a compound that is also known as nortriptyline N-oxide or 10-Desmethylnortriptyline. Desmethylnortriptyline is a metabolite of the tricyclic antidepressant medication nortriptyline and is also used as a research tool in the study of antidepressant drugs.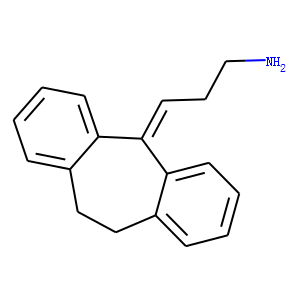 Molecular Formula: C18H19N
Molecular Weight:249.357
* For research use only. Not for human or veterinary use.
Synonym
| | |
| --- | --- |
| Synonyms | 3-(10,11-Dihydro-5H-dibenzo[a,d]cyclohepten-5-ylidene)-1-propanamine; 10,11-Dihydro-5H-dibenzo[a,d]cycloheptene-Δ5,γ-propylamine; Demethylnortriptyline; Didesmethylamitriptyline; Lu 5-079; N,N-Didemethylamitriptyline |
Property
| | |
| --- | --- |
| Molecular Formula: | C18H19N |
| Molecular Weight | 249.357 |
| Purity | ≥95% |
| Storage | RT |
Computed Descriptor
| | |
| --- | --- |
| IUPAC Name | 3-(5,6-dihydrodibenzo[2,1-b:2/',1/'-f][7]annulen-11-ylidene)propan-1-amine |
| InChI | InChI=1S/C18H19N/c19-13-5-10-18-16-8-3-1-6-14(16)11-12-15-7-2-4-9-17(15)18/h1-4,6-10H,5,11-13,19H2 |
| InChIKey | PTQFRALDEONNOA-UHFFFAOYSA-N |
| SMILES | C1CC2=CC=CC=C2C(=CCCN)C3=CC=CC=C31 |