Deslorelin Acetate - CAS 82318-06-7
Deslorelin(CAT: I006021) is a gonadotropin-releasing hormone super-agonist (GnRH agonist) also known as an LHRH agonist. It stops the production of sex hormones (testosterone and oestrogen). It is currently approved for use in veterinary medicine. This product is used for medical research and development and other scientific research purposes.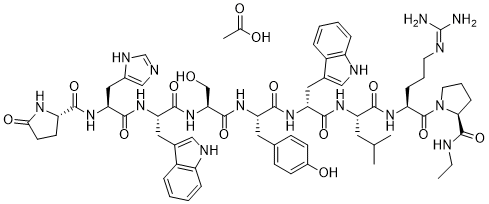 Molecular Formula: C66H87N17O14
Molecular Weight:1342.527
* For research use only. Not for human or veterinary use.
Synonym
| | |
| --- | --- |
| Synonyms | Deslorelin Acetate; H 4065; Somagard; Tryptal; GNRH (D-Trp6,pro9-net). brand name Ovuplant. Pyr-His-Trp-Ser-Tyr-D-Trp-Leu-Arg-Pro-NHEt.;(S)-1-((3S,6S,9S,12S,15R,18S,21S)-3-((1H-imidazol-5-yl)methyl)-6,15-bis((1H-indol-3-yl)methyl)-21-(3-((diaminometh |
Property
| | |
| --- | --- |
| Molecular Formula: | C66H87N17O14 |
| Molecular Weight | 1342.527 |
| Solubility | Soluble in DMSO, not in water |
| Purity | ≥95% |
| Storage | 0 - 4°C for short term ,or -20 °C for long term |