dBRD9 - CAS 2170679-45-3
dBRD9 (CAT: I025588) is a small molecule that acts as a PROTAC (PROteolysis TArgeting Chimera) degrader. It is designed to target and degrade the BRD9 bromodomain protein by recruiting it to the cereblon E3 ubiquitin ligase complex. This mechanism of action leads to the ubiquitination and subsequent degradation of BRD9, resulting in the downregulation of its biological activity. dBRD9 and other PROTACs are being investigated as novel approaches for targeted protein degradation in drug discovery and development.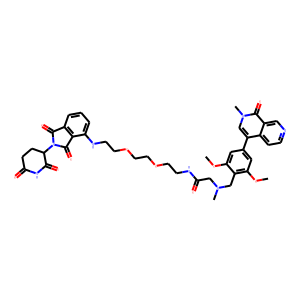 Molecular Formula: C40H45N7O10
Molecular Weight:783.84
* For research use only. Not for human or veterinary use.
Synonym
| | |
| --- | --- |
| Synonyms | dBRD-9; dBRD 9; dBRD9 |
Property
| | |
| --- | --- |
| Molecular Formula: | C40H45N7O10 |
| Molecular Weight | 783.84 |
| Solubility | Soluble in DMSO |
| Purity | 98.0% |
| Storage | Dry, dark and at 0 - 4 C for short term (days to weeks) or -20 C for long term (months to years). |
Computed Descriptor
| | |
| --- | --- |
| IUPAC Name | 2-((2,6-Dimethoxy-4-(2-methyl-1-oxo-1,2-dihydro-2,7-naphthyridin-4-yl)benzyl)(methyl)amino)-N-(2-(2-(2-((2-(2,6-dioxopiperidin-3-yl)-1,3-dioxoisoindolin-4-yl)amino)ethoxy)ethoxy)ethyl)acetamide |
| InChI | InChI=1S/C40H45N7O10/c1-45(21-29-32(54-3)18-24(19-33(29)55-4)28-22-46(2)38(51)27-20-41-11-10-25(27)28)23-35(49)43-13-15-57-17-16-56-14-12-42-30-7-5-6-26-36(30)40(53)47(39(26)52)31-8-9-34(48)44-37(31)50/h5-7,10-11,18-20,22,31,42H,8-9,12-17,21,23H2,1-4H3,(H,43,49)(H,44,48,50) |
| InChIKey | AIOCFZJGGGEWDK-UHFFFAOYSA-N |
| SMILES | O=C(NCCOCCOCCNC1=CC=CC(C(N2C(CC3)C(NC3=O)=O)=O)=C1C2=O)CN(CC4=C(OC)C=C(C(C5=CC=NC=C65)=CN(C)C6=O)C=C4OC)C |