dBET6 - CAS 1950634-92-0
DBET6 (Cat. No: I020016) is a BET degrading enzyme based on PROTAC 's strong, selective, and cell permeability, and can also induce c-MYC down-regulation and apoptosis. It is effective in most cancer cell lines, and dBET6 has a significant degradation effect in cells at concentrations below the nanomolar level.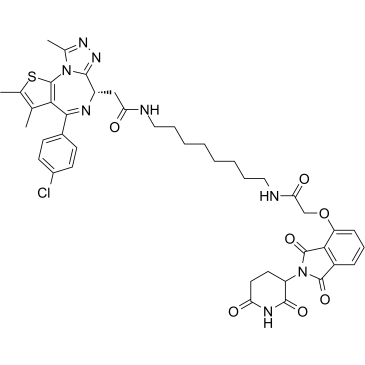 Molecular Formula: C₄₂H₄₅ClN₈O₇S
Molecular Weight:841.37
* For research use only. Not for human or veterinary use.
Property
| | |
| --- | --- |
| Molecular Formula: | C₄₂H₄₅ClN₈O₇S |
| Molecular Weight | 841.37 |
| Purity | ≥95% |