D-Serine - CAS 312-84-5
D-Serine (CAT: R052864) is a non-essential amino acid that is a natural agonist of the glycine-binding site of the NMDA receptor. It is synthesized in the brain and is involved in several physiological processes, including neuronal development and plasticity. D-Serine is essential for the proper functioning of the central nervous system, and its dysregulation has been implicated in several neurological disorders, including schizophrenia and Alzheimer's disease. It is used in research as a tool to study NMDA receptor function and as a potential therapeutic agent for these disorders.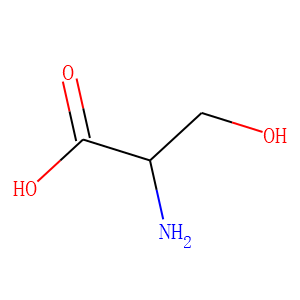 Molecular Formula: C3H7NO3
Molecular Weight:105.093
* For research use only. Not for human or veterinary use.
Synonym
| | |
| --- | --- |
| Synonyms | (R)-2-Amino-3-hydroxypropanoic Acid; (R)-2-Amino-3-hydroxypropanoic Acid; (R)-Serine; NSC 77689; |
Property
| | |
| --- | --- |
| Molecular Formula: | C3H7NO3 |
| Molecular Weight | 105.093 |
| Purity | ≥95% |
| Storage | -20°C |
Computed Descriptor
| | |
| --- | --- |
| IUPAC Name | (2R)-2-amino-3-hydroxypropanoic acid |
| InChI | InChI=1S/C3H7NO3/c4-2(1-5)3(6)7/h2,5H,1,4H2,(H,6,7)/t2-/m1/s1 |
| InChIKey | MTCFGRXMJLQNBG-UWTATZPHSA-N |
| SMILES | C(C(C(=O)O)N)O |