D-(+)-Raffinose Pentahydrate - CAS 17629-30-0
​D-(+)-Raffinose is a trisaccharide composed of galactose, glucose, and fructose that occurs naturally in a variety of vegetables and grains. It is hydrolyzed to galactose and sucrose by α-galactosidase.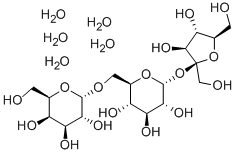 Molecular Formula: C18H32O16 • 5H2O
Molecular Weight:594.5
* For research use only. Not for human or veterinary use.
Synonym
| | |
| --- | --- |
| Synonyms | β-D-Fructofuranosyl-O-a-D-galactopyranosyl-(1→6)-α-D-glucopyranoside; Raffinose Pentahydrate; D-(+)-Raffinose Pentahydrate; D-Raffinose Pentahydrate; Gossypose Pentahydrate; Melitose Pentahydrate; Melitriose Pentahydrate; NSC 170228 Pentahydrate; Nit |
Property
| | |
| --- | --- |
| Molecular Formula: | C18H32O16 • 5H2O |
| Molecular Weight | 594.5 |
| Purity | ≥95% |
| Storage | -20°C |
Computed Descriptor
| | |
| --- | --- |
| InChIKey | BITMAWRCWSHCRW-PFQJHCPISA-N |