Cytarabine hydrochloride- CAS 69-74-9
Cytarabine (AraC) is an antimetabolic agent and DNA synthesis inhibitor.
Target: DNA/RNA Synthesis
Cytarabine (AraC) is phosphorylated into a triphosphate form (Ara-CTP) involving deoxycytidine kinase (dCK), which competes with dCTP for incorporation into DNA, and then blocks DNA synthesis by inhibiting the function of DNA and RNA polymerases. Cytarabine displays a higher growth inhibitory activity towards wild-type CCRF-CEM cells compared to other acute myelogenous leukemia (AML) cells with IC50 of 16 nM [1]. Cytarabine apparently induces apoptosis of rat sympathetic neurons at 10 μM, of which 100 μM shows the highest toxicity and kills over 80% of the neurons by 84 hours, involving the release of mitochondrial cytochrome-c and the activation of caspase-3, and the toxicity can be attenuated by p53 knockdown and delayed by bax deletion [2].
Cytarabine (250 mg/kg) also causes placental growth retardation and increases placental trophoblastic cells apoptosis in the placental labyrinth zone of the pregnant Slc:Wistar rats [3]. Cytarabine is highly effective against acute leukaemias, which causes the characteristic G1/S blockage and synchronization, and increases the survival time for leukaemic Brown Norway rats in a weak dose-related fashion indicating that the use of higher dosages of Cytarabine does not contribute to its antileukaemic effectiveness in man [4].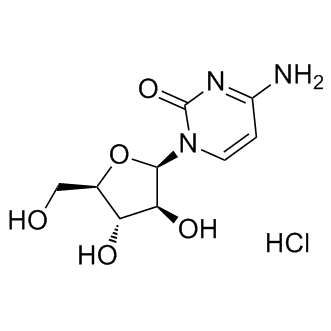 Catalog Number: I004619
CAS Number: 69-74-9
PubChem Substance ID:355039563
Molecular Formula: C9H14ClN3O5
Molecular Weight:279.68
Purity: ≥95%
* For research use only. Not for human or veterinary use.
Synonym
| | |
| --- | --- |
| Synonyms | 4-amino-1-[(2R,3S,4S,5R)-3,4-dihydroxy-5-(hydroxymethyl)oxolan-2-yl]pyrimidin-2-one;hydrochloride |
Property
| | |
| --- | --- |
| Molecular Formula: | C9H14ClN3O5 |
| Molecular Weight | 279.68 |
| Target: | DNA Synthesis |
| Solubility | 10 mM in DMSO |
| Purity | ≥95% |
| Storage | Store at -20C |