Cyclosporin C - CAS 59787-61-0
Cyclosporin C (Cat No.: R009083) is an antibiotic. As an organic synthesis intermediate and pharmaceutical intermediate, it can be used in laboratory research and development process and chemical production processes. It is also a fungal metabolite. It is found in inflammatory T. inflatum and has a variety of biological activities, including antifungal, antiviral, and immunosuppressive properties.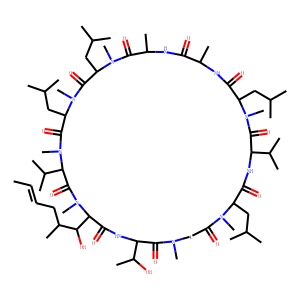 Molecular Formula: C62H111N11O13
Molecular Weight:1218.6 g/mol
* For research use only. Not for human or veterinary use.
Synonym
| | |
| --- | --- |
| Synonyms | Thr2-cyclosporine; |
Property
| | |
| --- | --- |
| Molecular Formula: | C62H111N11O13 |
| Molecular Weight | 1218.6 g/mol |
| Purity | 95.0% |
| Storage | -20°C |
| Analysis method | HPLC |
Computed Descriptor
| | |
| --- | --- |
| IUPAC Name | (3S,6S,9S,12R,15S,18S,21S,24S,30S,33S)-30-[(1R)-1-hydroxyethyl]-33-[(E,1R,2R)-1-hydroxy-2-methylhex-4-enyl]-1,4,7,10,12,15,19,25,28-nonamethyl-6,9,18,24-tetrakis(2-methylpropyl)-3,21-di(propan-2-yl)-1,4,7,10,13,16,19,22,25,28,31-undecazacyclotritriacontane-2,5,8,11,14,17,20,23,26,29,32-undecone |
| InChI | InChI=1S/C62H111N11O13/c1-25-26-27-39(14)52(76)51-56(80)66-49(42(17)74)60(84)67(18)32-47(75)68(19)43(28-33(2)3)55(79)65-48(37(10)11)61(85)69(20)44(29-34(4)5)54(78)63-40(15)53(77)64-41(16)57(81)70(21)45(30-35(6)7)58(82)71(22)46(31-36(8)9)59(83)72(23)50(38(12)13)62(86)73(51)24/h25-26,33-46,48-52,74,76H,27-32H2,1-24H3,(H,63,78)(H,64,77)(H,65,79)(H,66,80)/b26-25+/t39-,40+,41-,42-,43+,44+,45+,46+,48+,49+,50+,51+,52-/m1/s1 |
| InChIKey | JTOKYIBTLUQVQV-QRVTZXGZSA-N |
| SMILES | CC=CCC(C)C(C1C(=O)NC(C(=O)N(CC(=O)N(C(C(=O)NC(C(=O)N(C(C(=O)NC(C(=O)NC(C(=O)N(C(C(=O)N(C(C(=O)N(C(C(=O)N1C)C(C)C)C)CC(C)C)C)CC(C)C)C)C)C)CC(C)C)C)C(C)C)CC(C)C)C)C)C(C)O)O |