CY2-SE - CAS 186205-33-4
CY2-SE (CAT: I013802) is a valuable dye used for the efficient labeling of amino groups in peptides, proteins, and oligonucleotides. Its mode of action involves forming stable covalent bonds with amino groups, facilitating precise tracking and detection of biomolecules. This fluorescent dye has broad applications in bioconjugation, fluorescence-based assays, and imaging techniques, enabling researchers to gain insights into cellular processes and molecular interactions. Its pharmacologic action as a reliable labeling agent contributes to advancements in various fields, including proteomics, genomics, and cell biology.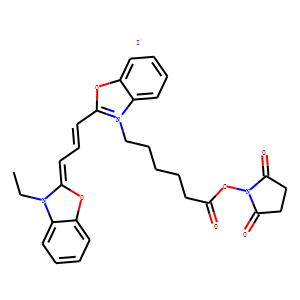 Molecular Formula: C₂₉H₃₀IN₃O₆
Molecular Weight:643.47
* For research use only. Not for human or veterinary use.
Property
| | |
| --- | --- |
| Molecular Formula: | C₂₉H₃₀IN₃O₆ |
| Molecular Weight | 643.47 |
| Target: | Dye Reagents |
| Solubility | DMSO: ≥ 35 mg/mL |
| Purity | ≥95% |
Computed Descriptor
| | |
| --- | --- |
| IUPAC Name | (2,5-dioxopyrrolidin-1-yl) 6-[2-[(E,3E)-3-(3-ethyl-1,3-benzoxazol-2-ylidene)prop-1-enyl]-1,3-benzoxazol-3-ium-3-yl]hexanoate;iodide |
| InChI | InChI=1S/C29H30N3O6.HI/c1-2-30-21-11-5-7-13-23(21)36-27(30)15-10-16-28-31(22-12-6-8-14-24(22)37-28)20-9-3-4-17-29(35)38-32-25(33)18-19-26(32)34;/h5-8,10-16H,2-4,9,17-20H2,1H3;1H/q+1;/p-1 |
| InChIKey | RQYPAAVMQSMNBY-UHFFFAOYSA-M |
| SMILES | CCN1C2=CC=CC=C2OC1=CC=CC3=[N+](C4=CC=CC=C4O3)CCCCCC(=O)ON5C(=O)CCC5=O.[I-] |