Cupric stearate - CAS 660-60-6
Cupric stearate (CAS 660-60-6) is pale-blue to blue-green amorphous powder. It can be used in antifouling paints, itextile and wood preservatives and rubber aging. It can also be used as catalyst.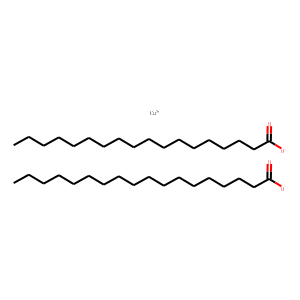 Molecular Formula: C36H70CuO4
Molecular Weight:630.498
* For research use only. Not for human or veterinary use.
Synonym
| | |
| --- | --- |
| Synonyms | Copper dioctadecanoate;Cupric distearate; |
Property
| | |
| --- | --- |
| Molecular Formula: | C36H70CuO4 |
| Molecular Weight | 630.498 |
| Purity | ≥95% |
| Storage | +8°C |
| MDL | MFCD00050714 |
| Related CAS. | 57-11-4 |
Computed Descriptor
| | |
| --- | --- |
| IUPAC Name | copper;octadecanoate |
| InChI | InChI=1S/2C18H36O2.Cu/c2*1-2-3-4-5-6-7-8-9-10-11-12-13-14-15-16-17-18(19)20;/h2*2-17H2,1H3,(H,19,20);/q;;+2/p-2 |
| InChIKey | PEVZEFCZINKUCG-UHFFFAOYSA-L |
| SMILES | CCCCCCCCCCCCCCCCCC(=O)[O-].CCCCCCCCCCCCCCCCCC(=O)[O-].[Cu+2] |