Coenzyme A - CAS 85-61-0
Coenzyme A (CAT: R065215) is a molecule that plays a crucial role in several biochemical pathways in living organisms. It is composed of a nucleotide molecule called adenosine triphosphate (ATP) and a molecule called 3′-phosphoadenosine-5′-diphospho-4′-phosphopantetheine. Coenzyme A is involved in the metabolism of carbohydrates, fats, and proteins, as well as in the synthesis of various molecules in the body. It also plays a key role in the citric acid cycle, a process that generates energy for cells. Deficiencies in Coenzyme A have been linked to certain metabolic disorders.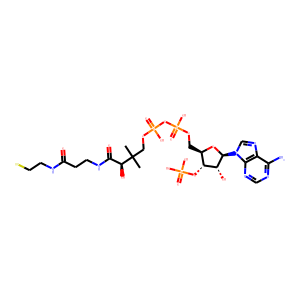 Molecular Formula: C21H36N7O16P3S
Molecular Weight:767.5
* For research use only. Not for human or veterinary use.
Synonym
Property
| | |
| --- | --- |
| Molecular Formula: | C21H36N7O16P3S |
| Molecular Weight | 767.5 |
| Purity | ≥95% |
| Storage | -20°C |
Computed Descriptor
| | |
| --- | --- |
| InChI | InChI=1S/C21H36N7O16P3S/c1-21(2,16(31)19(32)24-4-3-12(29)23-5-6-48)8-41-47(38,39)44-46(36,37)40-7-11-15(43-45(33,34)35)14(30)20(42-11)28-10-27-13-17(22)25-9-26-18(13)28/h9-11,14-16,20,30-31,48H,3-8H2,1-2H3,(H,23,29)(H,24,32)(H,36,37)(H,38,39)(H2,22,2 |
| InChIKey | RGJOEKWQDUBAIZ-MOSQOTBSSA-N |
| SMILES | O[C@H]1[C@H](N2C=NC3=C2N=CN=C3N)O[C@H](COP(OP(OCC(C)(C)[C@@H](O)C(NCCC(NCCS)=O)=O)(O)=O)(O)=O)[C@H]1OP(O)(O)=O |