Clindamycin B 2-Phosphate - CAS 54887-31-9
Clindamycin B 2-Phosphate Ammonium Salt (Cat No.:R000027), also known as EP Impurity B, is the major degradation product of Clindamycin 2-phosphate and is mainly used for control analysis.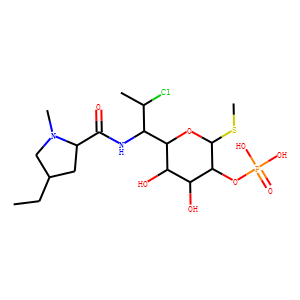 Molecular Formula: C17H35ClN2O8PS
Molecular Weight:490.94
* For research use only. Not for human or veterinary use.
Synonym
| | |
| --- | --- |
| Synonyms | (2S-trans)-Methyl 7-Chloro-6,7,8-trideoxy-6-[[(4-ethyl-1-methyl-2-pyrrolidinyl)carbonyl]amino]-1-thio-L-threo-α-D-galacto-Octopyranoside 2-(dihydrogen phosphate); |
Property
| | |
| --- | --- |
| Molecular Formula: | C17H35ClN2O8PS |
| Molecular Weight | 490.94 |
| Purity | ≥95% |
| Storage | Store at RT |
Computed Descriptor
| | |
| --- | --- |
| IUPAC Name | [(2R,3R,4S,5R,6R)-6-[(1S,2R)-2-chloro-1-[[(2S,4R)-4-ethyl-1-methylpyrrolidine-2-carbonyl]amino]propyl]-4,5-dihydroxy-2-methylsulfanyloxan-3-yl] dihydrogen phosphate |
| InChI | InChI=1S/C17H32ClN2O8PS/c1-5-9-6-10(20(3)7-9)16(23)19-11(8(2)18)14-12(21)13(22)15(17(27-14)30-4)28-29(24,25)26/h8-15,17,21-22H,5-7H2,1-4H3,(H,19,23)(H2,24,25,26)/t8-,9-,10+,11-,12-,13+,14-,15-,17-/m1/s1 |
| InChIKey | GOTDPKVMVWZIIW-UOEFBAOHSA-N |
| SMILES | CCC1CC(N(C1)C)C(=O)NC(C2C(C(C(C(O2)SC)OP(=O)(O)O)O)O)C(C)Cl |