Cladribine - CAS 4291-63-8
Cladribine(Cat No.:I003531) is a medication that functions as an adenosine deaminase inhibitor. It is primarily used to treat two conditions: hairy cell leukemia (HCL) and multiple sclerosis (MS). In HCL, cladribine works by suppressing the production of abnormal white blood cells. In MS, it modulates the immune system to reduce the frequency of relapses. Cladribine is available in oral and injectable forms, and its use requires careful monitoring due to potential side effects, particularly effects on the immune system and bone marrow suppression.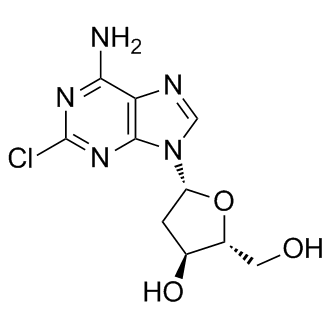 Molecular Formula: C10H12ClN5O3
Molecular Weight:285.70
* For research use only. Not for human or veterinary use.
Synonym
| | |
| --- | --- |
| Synonyms | (2R,3S,5R)-5-(6-amino-2-chloropurin-9-yl)-2-(hydroxymethyl)oxolan-3-ol |
Property
| | |
| --- | --- |
| Molecular Formula: | C10H12ClN5O3 |
| Molecular Weight | 285.70 |
| Target: | DNA Synthesis |
| Solubility | DMSO: ≥ 48 mg/mL |
| Purity | ≥95% |
| Storage | -20°C |
Computed Descriptor
| | |
| --- | --- |
| IUPAC Name | (2R,3S,5R)-5-(6-amino-2-chloropurin-9-yl)-2-(hydroxymethyl)oxolan-3-ol |
| InChI | InChI=1S/C10H12ClN5O3/c11-10-14-8(12)7-9(15-10)16(3-13-7)6-1-4(18)5(2-17)19-6/h3-6,17-18H,1-2H2,(H2,12,14,15)/t4-,5+,6+/m0/s1 |
| InChIKey | PTOAARAWEBMLNO-KVQBGUIXSA-N |
| SMILES | C1C(C(OC1N2C=NC3=C(N=C(N=C32)Cl)N)CO)O |