CL4H6 - CAS 2256087-35-9
CL4H6(CAT: I024872) is a Ph-sensitive cationic lipid. CL4H6 is a major component of lipid nanoparticles (LNPs) that can be used to target and deliver siRNA and induce effective gene-silencing responses. In vitro studies, CL4H6 was found to effectively target hepatocyte and endosomal escapes, safely and efficiently delivering myocardial associated transcription factor/serum response factor (MRTF/SRF) -B siRNA into human conjunctiva fibroblasts.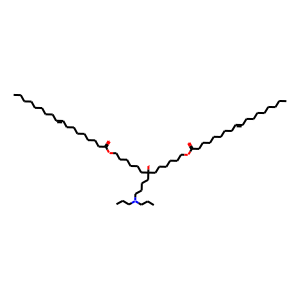 Molecular Formula: C59H113NO5
Molecular Weight:916.555
* For research use only. Not for human or veterinary use.
Synonym
| | |
| --- | --- |
| Synonyms | CL4H6; CL-4H6; CL 4H6; |
Property
| | |
| --- | --- |
| Molecular Formula: | C59H113NO5 |
| Molecular Weight | 916.555 |
| Solubility | To be determined |
| Purity | 95% |
| Storage | Dry, dark and at 0 - 4 C for short term (days to weeks) or -20 C for long term (months to years). |
Computed Descriptor
| | |
| --- | --- |
| IUPAC Name | 7-(4-(dipropylamino)butyl)-7-hydroxytridecane-1,13-diyl dioleate |
| InChI | InChI=1S/C59H113NO5/c1-5-9-11-13-15-17-19-21-23-25-27-29-31-33-39-47-57(61)64-55-45-37-35-41-49-59(63,51-43-44-54-60(52-7-3)53-8-4)50-42-36-38-46-56-65-58(62)48-40-34-32-30-28-26-24-22-20-18-16-14-12-10-6-2/h21-24,63H,5-20,25-56H2,1-4H3/b23-21-,24-22- |
| InChIKey | ZFFZMGJMZGAGMF-SXAUZNKPSA-N |
| SMILES | CCCN(CCC)CCCCC(CCCCCCOC(CCCCCCC/C=CCCCCCCCC)=O)(O)CCCCCCOC(CCCCCCC/C=CCCCCCCCC)=O |