Chloroquine Sulfate - CAS 132-73-0
Chloroquine Sulfate(CAT: R023033) is a sulfate form of chloroquine. It is an anti-malarial drug, with anti-inflammatory and analgesic, anti-infection, and immune regulation effects, generally used in the treatment of rheumatoid arthritis, lupus erythematosus, and other diseases. This product is used for medical research and development and other scientific research purposes.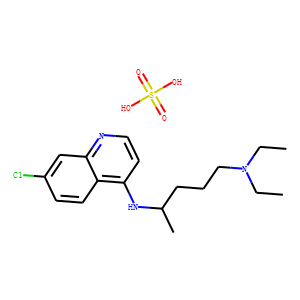 Molecular Formula: C18H28ClN3O4S
Molecular Weight:417.949
* For research use only. Not for human or veterinary use.
Synonym
| | |
| --- | --- |
| Synonyms | Melubrin; 7-Chloro-4-[[4-(diethylamino)-1-methylbutyl]amino]quinoline Sulfate; 7-Chloro-4-(4'-diethylamino-1-methylbutylamino)quinoline Sulfate; Chloroquine Sulfate; Chlorquine Sulfate; Ciplaquin; Lariago; Melubrine; NSC 292296; Nivaquine; Resochine |
Property
| | |
| --- | --- |
| Molecular Formula: | C18H28ClN3O4S |
| Molecular Weight | 417.949 |
| Purity | ≥95% |
| Storage | Store at RT |
Computed Descriptor
| | |
| --- | --- |
| IUPAC Name | 4-N-(7-chloroquinolin-4-yl)-1-N,1-N-diethylpentane-1,4-diamine;sulfuric acid |
| InChI | InChI=1S/C18H26ClN3.H2O4S/c1-4-22(5-2)12-6-7-14(3)21-17-10-11-20-18-13-15(19)8-9-16(17)18;1-5(2,3)4/h8-11,13-14H,4-7,12H2,1-3H3,(H,20,21);(H2,1,2,3,4) |
| InChIKey | OJPWHUOVKVKBQB-UHFFFAOYSA-N |
| SMILES | CCN(CC)CCCC(C)NC1=C2C=CC(=CC2=NC=C1)Cl.OS(=O)(=O)O |