CERIUM(IV) FLUORIDE - CAS 10060-10-3
Cerium(IV) fluoride(Cat No.:M120373), is a chemical compound composed of cerium and fluorine. It is a crystalline solid with applications in various fields. It finds use as a catalyst in organic synthesis, particularly in oxidative transformations. Cerium(IV) fluoride's high oxidation potential makes it effective in promoting various reactions. It is also utilized in the production of optical coatings due to its transparency in the infrared region. In addition, cerium(IV) fluoride is employed in the nuclear industry and in specialized glass formulations.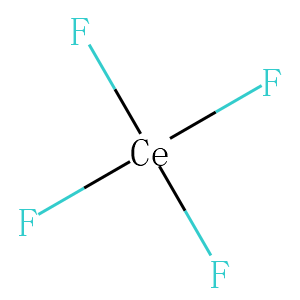 Molecular Formula: CeF4
Molecular Weight:216.11
* For research use only. Not for human or veterinary use.
Property
| | |
| --- | --- |
| Molecular Formula: | CeF4 |
| Molecular Weight | 216.11 |
| Purity | ≥95% |
| Storage | -20°C |
Computed Descriptor
| | |
| --- | --- |
| IUPAC Name | tetrafluorocerium |
| InChI | InChI=1S/Ce.4FH/h;4*1H/q+4;;;;/p-4 |
| InChIKey | SWURHZJFFJEBEE-UHFFFAOYSA-J |
| SMILES | F[Ce](F)(F)F |