Cefmetazole - CAS 56796-20-4
Cefmetazole is a broad spectrum second generation cephalosporin antibiotic. Cefmetazole is freely soluble in water 92 mg/mL.Like β-lactams, cephalosporins interfere with PBP (penicillin binding protein) activity involved in the final phase of peptidoglycan synthesis. PBP's are enzymes which catalyze a pentaglycine crosslink between alanine and lysine residues providing additional strength to the cell wall. Without a pentaglycine crosslink, the integrity of the cell wall is severely compromised and ultimately leads to cell lysis and death. Resistance to cephalosporins is commonly due to cells containing plasmid encoded β-lactamases.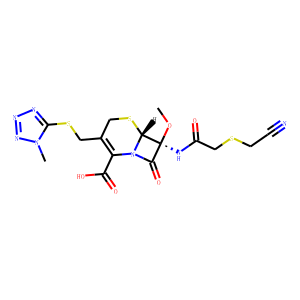 Molecular Formula: C15H17N7O5S3
Molecular Weight:471.525
* For research use only. Not for human or veterinary use.
Synonym
| | |
| --- | --- |
| Synonyms | (6R,7S)-7-[[2-[(Cyanomethyl)thio]acetyl]amino]-7-methoxy-3-[[(1-methyl?-1H-tetrazol-5-yl)thio]methyl]-8-oxo-5-thia-1-azabicyclo[4.2.0]oct-2-ene?-2-carboxylic Acid; SKF 83088; U 72791; U 72791a; |
Property
| | |
| --- | --- |
| Molecular Formula: | C15H17N7O5S3 |
| Molecular Weight | 471.525 |
| Purity | ≥95% |
| Storage | -20°C |
Computed Descriptor
| | |
| --- | --- |
| IUPAC Name | (6R,7S)-7-[[2-(cyanomethylsulfanyl)acetyl]amino]-7-methoxy-3-[(1-methyltetrazol-5-yl)sulfanylmethyl]-8-oxo-5-thia-1-azabicyclo[4.2.0]oct-2-ene-2-carboxylic acid |
| InChI | InChI=1S/C15H17N7O5S3/c1-21-14(18-19-20-21)30-6-8-5-29-13-15(27-2,17-9(23)7-28-4-3-16)12(26)22(13)10(8)11(24)25/h13H,4-7H2,1-2H3,(H,17,23)(H,24,25)/t13-,15+/m1/s1 |
| InChIKey | SNBUBQHDYVFSQF-HIFRSBDPSA-N |
| SMILES | CN1C(=NN=N1)SCC2=C(N3C(C(C3=O)(NC(=O)CSCC#N)OC)SC2)C(=O)O |