Caspofungin Acetate- CAS 179463-17-3
Caspofungin(CAT: I013966) is a semi-synthetic analog of pneumocandin B0 with improved water solubility, a significant limitation in the development of the echinocandin class as pharmaceuticals. Caspofungin acts by inhibiting the synthesis of β-(1,3)-D-glucan, an essential component of the cell wall of susceptible fungi.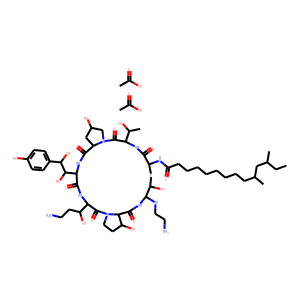 Catalog Number: I013966
CAS Number: 179463-17-3
PubChem Substance ID:355050041
Molecular Formula: C₅₆H₉₆N₁₀O₁₉
Molecular Weight:1213.42
Purity: 99.0%
Appearance:White Powder
* For research use only. Not for human or veterinary use.
Property
| | |
| --- | --- |
| Molecular Formula: | C₅₆H₉₆N₁₀O₁₉ |
| Molecular Weight | 1213.42 |
| Target: | Fungal |
| Solubility | H2O: ≥ 100 mg/mL |
| Purity | 99.0% |
| Analysis method | HPLC |
Computed Descriptor
| | |
| --- | --- |
| InChI | InChI=1S/C52H88N10O15.2C2H4O2/c1-5-28(2)24-29(3)12-10-8-6-7-9-11-13-39(69)56-34-26-38(68)46(55-22-21-54)60-50(75)43-37(67)19-23-61(43)52(77)41(36(66)18-20-53)58-49(74)42(45(71)44(70)31-14-16-32(64)17-15-31)59-48(73)35-25-33(65)27-62(35)51(76)40(30(4)63)57-47(34)72;2*1-2(3)4/h14-17,28-30,33-38,40-46,55,63-68,70-71H,5-13,18-27,53-54H2,1-4H3,(H,56,69)(H,57,72)(H,58,74)(H,59,73)(H,60,75);2*1H3,(H,3,4)/t28?,29?,30-,33-,34+,35+,36-,37+,38-,40+,41+,42+,43+,44-,45-,46+;;/m1../s1 |
| InChIKey | OGUJBRYAAJYXQP-NGKZUFIYSA-N |
| SMILES | CCC(C)CC(C)CCCCCCCCC(=O)NC1CC(C(NC(=O)C2C(CCN2C(=O)C(NC(=O)C(NC(=O)C3CC(CN3C(=O)C(NC1=O)C(C)O)O)C(C(C4=CC=C(C=C4)O)O)O)C(CCN)O)O)NCCN)O.CC(=O)O.CC(=O)O |