Canertinib - CAS 267243-28-7
Canertinib (CAT: I002916) is a small molecule tyrosine kinase inhibitor that targets the epidermal growth factor receptor (EGFR) and human epidermal growth factor receptor 2 (HER2). It exerts its pharmacological activity by irreversibly inhibiting the kinase activity of EGFR and HER2, thereby interfering with signaling pathways involved in cell proliferation and survival. Canertinib has shown potential in the treatment of various types of cancers, including breast, lung, and colorectal cancers that overexpress EGFR or HER2. It is primarily used in combination with other chemotherapy agents to enhance the efficacy of cancer treatment.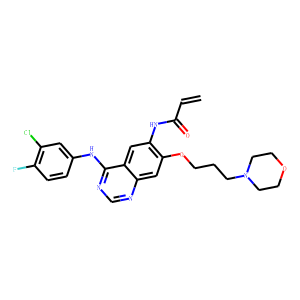 Molecular Formula: C24H25ClFN5O3
Molecular Weight:485.94
* For research use only. Not for human or veterinary use.
Synonym
| | |
| --- | --- |
| Synonyms | N-[4-(3-chloro-4-fluoroanilino)-7-(3-morpholin-4-ylpropoxy)quinazolin-6-yl]prop-2-enamide |
Property
| | |
| --- | --- |
| Molecular Formula: | C24H25ClFN5O3 |
| Molecular Weight | 485.94 |
| Target: | EGFR |
| Solubility | DMSO ≥5.6mg/mL Water <1.2mg/mL Ethanol <1.2mg/ |
| Purity | ≥95% |
| Storage | 3 years -20C powder |
| IC50 | 0.8nM |
Computed Descriptor
| | |
| --- | --- |
| InChIKey | OMZCMEYTWSXEPZ-UHFFFAOYSA-N |
| SMILES | C=CC(=O)NC1=C(C=C2C(=C1)C(=NC=N2)NC3=CC(=C(C=C3)F)Cl)OCCCN4CCOCC4 |