Calcium Butyrate - CAS 5743-36-2
Calcium Butyrate(CAT: R036424) is a new activation drug of brain metabolism. Calcium butyrate can promote the synthesis of acetylcholine and release acetylcholine from nerve endings, increase the concentration of norepinephrine and 5-HT in the brain, and antagonize the inhibitory neurotransmitter GA-BA. Can promote glucose into cells, and increase the content of brain lactam and cAMP. This product is used for medical research and development.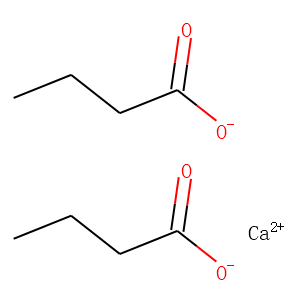 Molecular Formula: C8H14CaO4
Molecular Weight:214.274
* For research use only. Not for human or veterinary use.
Synonym
| | |
| --- | --- |
| Synonyms | Butanoic Acid, Calcium Salt; Butyric Acid, Calcium Salt; Greencab 70 Coated; |
Property
| | |
| --- | --- |
| Molecular Formula: | C8H14CaO4 |
| Molecular Weight | 214.274 |
| Purity | ≥95% |
| Storage | Desiccate at -20C |
Computed Descriptor
| | |
| --- | --- |
| IUPAC Name | calcium;butanoate |
| InChI | InChI=1S/2C4H8O2.Ca/c2*1-2-3-4(5)6;/h2*2-3H2,1H3,(H,5,6);/q;;+2/p-2 |
| InChIKey | FYPVXEILSNEKOO-UHFFFAOYSA-L |
| SMILES | CCCC(=O)[O-].CCCC(=O)[O-].[Ca+2] |