c-Fms-IN-1 - CAS 885703-64-0
c-Fms-IN-1 (CAT: I019140) is a potent inhibitor of FMS kinase, also known as colony-stimulating factor 1 receptor (CSF1R). FMS kinase is a receptor tyrosine kinase involved in various cellular processes, including cell growth, differentiation, and survival. By inhibiting FMS kinase, c-Fms-IN-1 disrupts the signaling pathway mediated by CSF1R, which is crucial for the development and function of macrophages and other immune cells. The low IC50 value of 0.0008 μM indicates its high potency in inhibiting FMS kinase activity.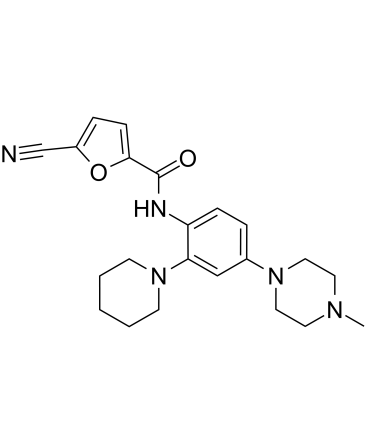 Molecular Formula: C₂₂H₂₇N₅O₂
Molecular Weight:393.48
* For research use only. Not for human or veterinary use.
Property
| | |
| --- | --- |
| Molecular Formula: | C₂₂H₂₇N₅O₂ |
| Molecular Weight | 393.48 |
| Purity | ≥95% |