Broflanilide - CAS 1207727-04-5
Broflanilide(CAT: I020116) is a potent insecticide. It is metabolized to Desmethyl-Broflanilide, a potent antagonist at the insect-resistant-to-dieldrin (RDL) GABA receptor. By inhibiting the RDL GABA receptor, Desmethyl-Broflanilide exerts its insecticidal activity, particularly against insects such as S. litura. The RDL GABA receptor is an essential target for insecticides, and the antagonistic action of Desmethyl-Broflanilide on this receptor contributes to its insecticidal effects.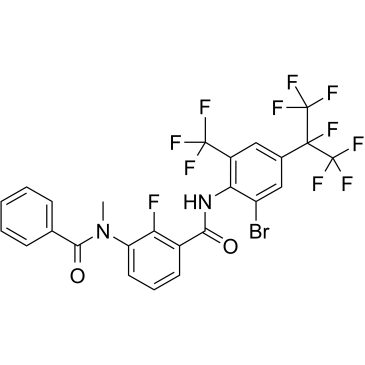 Molecular Formula: C₂₅H₁₄BrF₁₁N₂O₂
Molecular Weight:663.28
* For research use only. Not for human or veterinary use.
Property
| | |
| --- | --- |
| Molecular Formula: | C₂₅H₁₄BrF₁₁N₂O₂ |
| Molecular Weight | 663.28 |
| Purity | ≥95% |