BPC 157 - CAS 137525-51-0
BPC 157(Cat No.:M106252), is a synthetic peptide derived from human gastric juice proteins. It has garnered interest for its potential therapeutic effects on gastrointestinal health and tissue repair. BPC 157 is believed to promote the healing of various tissues, including muscles, tendons, and the gut lining. It appears to have anti-inflammatory, angiogenic, and regenerative properties, potentially aiding in the treatment of ulcers, inflammatory bowel disease, and musculoskeletal injuries.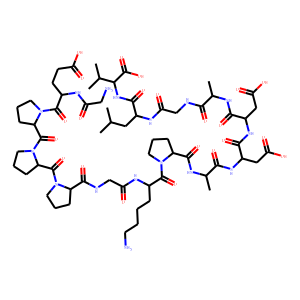 Molecular Formula: C62H98N16O22
Molecular Weight:1419.56
* For research use only. Not for human or veterinary use.
Synonym
Property
| | |
| --- | --- |
| Molecular Formula: | C62H98N16O22 |
| Molecular Weight | 1419.56 |
| Purity | ≥95% |
| Storage | Store at -20°C |
Computed Descriptor
| | |
| --- | --- |
| IUPAC Name | (4S)-4-[(2-aminoacetyl)amino]-5-[(2S)-2-[(2S)-2-[(2S)-2-[[2-[[(2S)-6-amino-1-[(2S)-2-[[(2S)-1-[[(2S)-3-carboxy-1-[[(2S)-3-carboxy-1-[[(2S)-1-[[2-[[(2S)-1-[[(1S)-1-carboxy-2-methylpropyl]amino]-4-methyl-1-oxopentan-2-yl]amino]-2-oxoethyl]amino]-1-oxopropan-2-yl]amino]-1-oxopropan-2-yl]amino]-1-oxopropan-2-yl]amino]-1-oxopropan-2-yl]carbamoyl]pyrrolidin-1-yl]-1-oxohexan-2-yl]amino]-2-oxoethyl]carbamoyl]pyrrolidine-1-carbonyl]pyrrolidine-1-carbonyl]pyrrolidin-1-yl]-5-oxopentanoic acid |
| InChI | InChI=1S/C62H98N16O22/c1-31(2)25-37(55(92)74-50(32(3)4)62(99)100)71-46(81)29-65-51(88)33(5)67-53(90)38(26-48(84)85)73-54(91)39(27-49(86)87)72-52(89)34(6)68-57(94)41-15-10-21-75(41)58(95)35(13-7-8-20-63)70-45(80)30-66-56(93)40-14-9-22-76(40)60(97)43-17-12-24-78(43)61(98)42-16-11-23-77(42)59(96)36(18-19-47(82)83)69-44(79)28-64/h31-43,50H,7-30,63-64H2,1-6H3,(H,65,88)(H,66,93)(H,67,90)(H,68,94)(H,69,79)(H,70,80)(H,71,81)(H,72,89)(H,73,91)(H,74,92)(H,82,83)(H,84,85)(H,86,87)(H,99,100)/t33-,34-,35-,36-,37-,38-,39-,40-,41-,42-,43-,50-/m0/s1 |
| InChIKey | HEEWEZGQMLZMFE-RKGINYAYSA-N |
| SMILES | CC(C)CC(C(=O)NC(C(C)C)C(=O)O)NC(=O)CNC(=O)C(C)NC(=O)C(CC(=O)O)NC(=O)C(CC(=O)O)NC(=O)C(C)NC(=O)C1CCCN1C(=O)C(CCCCN)NC(=O)CNC(=O)C2CCCN2C(=O)C3CCCN3C(=O)C4CCCN4C(=O)C(CCC(=O)O)NC(=O)CN |