BN82002 - CAS 396073-89-5
BN82002 is a potent, selective and irreversible inhibitor of CDC25 phosphatase family. BN82002 inhibits CDC25A, CDC25B2, CDC25B3, CDC25C CDC25A, and 25C-cat with IC50 values of 2.4, 3.9, 6.3, 5.4, and 4.6 µM, respectively. BN82002 displays ~20-fold greater selectivity over CD45 tyrosine phosphatase[1].
The effect of BN82002 on cell proliferation is evaluated in vitro on several human tumor cell lines. Menadione, which has been reported to inhibit cell proliferation, is used as a control. All of the examined cell lines are sensitive to BN82002 and Menadione in a concentration-dependent manner in the low micromolar range. The most sensitive is the pancreatic cancer cell line MIA PaCa-2 with an IC50 of 7.2 μM, and the less sensitive cell line is the colon cancer HT-29 with an IC50 of 32.6 μM. The range of activity is very similar to the one observed with menadione (5-15 μM). It is also showed that 50 μM BN82002 is a concentration that fully inhibits cell proliferation, the cell cycle distribution is only modestly affected with a slight decrease in S phase and an increase in cells containing both a G1 and a G2 DNA content, suggesting that the cells treated with BN82002 are arrested at various stages of the cell cycle[1].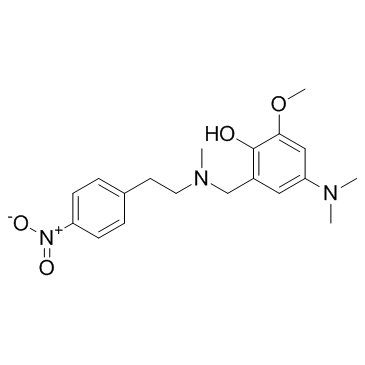 Molecular Formula: C₁₉H₂₅N₃O₄
Molecular Weight:359.42
* For research use only. Not for human or veterinary use.
Property
| | |
| --- | --- |
| Molecular Formula: | C₁₉H₂₅N₃O₄ |
| Molecular Weight | 359.42 |
| Purity | ≥95% |