Bisindolylmaleimide I- CAS 133052-90-1
Bisindolylmaleimide I (GF109203X) is a highly selective, cell-permeable, and reversible protein kinase C (PKC) inhibitor with a Ki value of 14 nM.
IC50 & Target: 20±7 nM (PKC α), 17±5 nM (PKC βⅠ), 16±5 nM (PKC βⅡ), 20±5 nM (PKC γ)[1].
Ki & Target: 14 nM (PKC)[1].
InVitro: GF109203X is a competitive inhibitor with respect to ATP (Ki= 14 nM) and displays high selectivity for PKC as compared to five different protein kinases. GF 109203X efficiently prevents PKC-mediated phosphorylations of an Mr = 47,000 protein in platelets and of an Mr= 80,000 protein in Swiss 3T3 cells. GF 109203X inhibits collagen- and a-thrombin-induced platelet aggregation as well as collagen-triggered ATP secretion. However, ADP-dependent reversible aggregation is not modified. In Swiss 3T3 fibroblasts, GF 109203X reverses the inhibition of epidermal growth factor binding induced by phorbol 12,13-dibutyrate and prevents [3H] thymidine incorporation into DNA, only when this is elicited by growth promoting agents which activate PKC[1].
InVivo: Pial arteriole diameter changes are monitored using a closed cranial window in vivo microscopy technique. The pial arteriole dilatory response associated with SNS is decreased by 45%, when comparing DM vs either ND or TR rats. Also, pial arteriolar dilations to topical KCl and NS1619 are largely attenuated in DM rats, but not in ND or TR animals. These responses are completely restored by the acute application of GF109203X to the brain surface. The PKC inhibitor has no effect on vascular responses in normoglycemic and TR animals. In conclusion, DM-associated chronic impairment of neurovascular coupling may be readily reversed by a PKC-α/β/γ inhibitor or prevented via pancreatic islet transplantation. Specific PCK isoforms (α/β/γ) are believed to be mechanistically linked to the neurovascular uncoupling seen with hyperglycemia[2].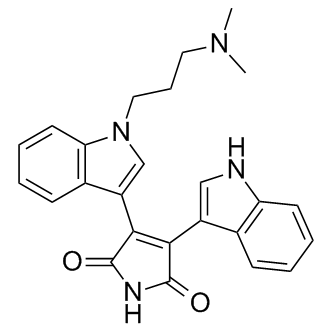 Catalog Number: I001259
CAS Number: 133052-90-1
PubChem Substance ID:355036691
Molecular Formula: C₂₅H₂₄N₄O₂
Molecular Weight:412.49
Purity: ≥95%
* For research use only. Not for human or veterinary use.
Synonym
| | |
| --- | --- |
| Synonyms | 3-[1-[3-(dimethylamino)propyl]indol-3-yl]-4-(1H-indol-3-yl)pyrrole-2,5-dione |
Property
| | |
| --- | --- |
| Molecular Formula: | C₂₅H₂₄N₄O₂ |
| Molecular Weight | 412.49 |
| Target: | PKC |
| Solubility | DMSO |
| Purity | ≥95% |
| Storage | Store at RT |
| MDL | MFCD00236428 |
Computed Descriptor
| | |
| --- | --- |
| InChI | CN(C)CCCN1C=C(C2=CC=CC=C21)C3=C(C(=O)NC3=O)C4=CNC5=CC=CC=C54 |
| InChIKey | QMGUOJYZJKLOLH-UHFFFAOYSA-N |
| SMILES | 1S/C25H24N4O2/c1-28(2)12-7-13-29-15-19(17-9-4-6-11-21(17)29)23-22(24(30)27-25(23)31)18-14-26-20-10-5-3-8-16(18)20/h3-6,8-11,14-15,26H,7,12-13H2,1-2H3,(H,27,30,31) |