Bis-Tos-PEG4 - CAS 37860-51-8
Bis-Tos-PEG4 (CAT: I018308) is a compound consisting of a polyethylene glycol (PEG) linker with four ethylene glycol units and two tosyl (Tos) groups attached. The PEG linker provides water solubility and flexibility, making it suitable for various biomedical applications. The tosyl groups serve as reactive handles for further functionalization or conjugation with other molecules or surfaces. Bis-Tos-PEG4 is commonly used in bioconjugation chemistry to link biomolecules or drugs to specific targets or surfaces.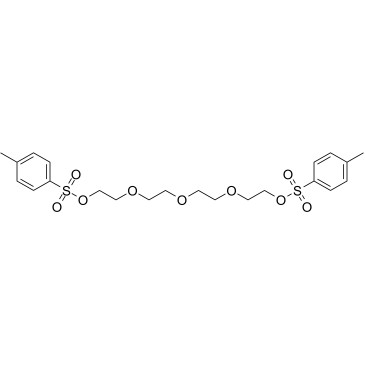 Molecular Formula: C₂₂H₃₀O₉S₂
Molecular Weight:502.6
* For research use only. Not for human or veterinary use.
Property
| | |
| --- | --- |
| Molecular Formula: | C₂₂H₃₀O₉S₂ |
| Molecular Weight | 502.6 |
| Purity | ≥95% |