BAY 11-7082- CAS 19542-67-7
BAY 11-7082 is an irreversible inhibitor of IKKα and phosphorylation of cytokine-inducible IκBα (nuclear factor of kappa light polypeptide gene enhancer in B-cells inhibitor-α, NFKBIA; IC50=10 μM).
IC50 value: 10 μM
Target: IκBa phosphorylation
in vitro: Bay 11-7082 inhibits transcription factor NF-κB and induces apoptosis of HTLV-I-infected T-cell lines and primary adult T-cell leukemia cells. Bay 11-7082 rapidly and efficiently reduces the DNA binding of NF-κB in HTLV-I-infected T-cell lines and down-regulates the expression of the antiapoptotic gene, Bcl-xL, regulated by NF-κB. [1] BAY 11-7082 inhibits the loading of ubiquitin on to E2 conjugating enzymes [2] BAY 11-7082 is an IKK inhibitor poorly selective for IKK1 and IKK2.[3]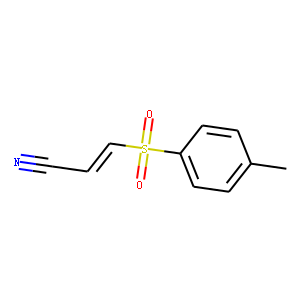 Molecular Formula: C10H9NO2S
Molecular Weight:207.247
* For research use only. Not for human or veterinary use.
Synonym
| | |
| --- | --- |
| Synonyms | (E)-3-(4-methylphenyl)sulfonylprop-2-enenitrile |
Property
| | |
| --- | --- |
| Molecular Formula: | C10H9NO2S |
| Molecular Weight | 207.247 |
| Target: | IκB/IKK |
| Solubility | 10 mM in DMSO |
| Purity | ≥95% |
| Storage | 3 years -20C powder |
| MDL | MFCD00712162 |
| IC50 | 10 μM |
Computed Descriptor
| | |
| --- | --- |
| IUPAC Name | (E)-3-(4-methylphenyl)sulfonylprop-2-enenitrile |
| InChI | InChI=1S/C10H9NO2S/c1-9-3-5-10(6-4-9)14(12,13)8-2-7-11/h2-6,8H,1H3/b8-2+ |
| InChIKey | DOEWDSDBFRHVAP-KRXBUXKQSA-N |
| SMILES | CC1=CC=C(C=C1)S(=O)(=O)C=CC#N |