Baicalin-7-diglucoside - CAS 114482-86-9
Baicalin-7-diglucoside (Cat No.:M127396) is a flavonoid glycoside derived from Scutellaria baicalensis. It exhibits potential pharmacological properties, including antioxidant, anti-inflammatory, and neuroprotective effects. Research suggests its applications in conditions such as neurodegenerative diseases, cardiovascular disorders, and cancer.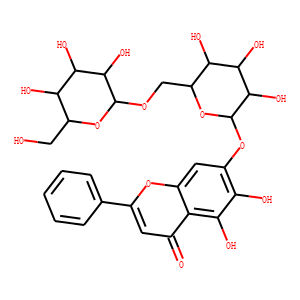 Molecular Formula: C27H30O15
Molecular Weight:594.52
* For research use only. Not for human or veterinary use.
Property
| | |
| --- | --- |
| Molecular Formula: | C27H30O15 |
| Molecular Weight | 594.52 |
| Purity | ≥95% |
| Storage | 4°C, protect from light |
Computed Descriptor
| | |
| --- | --- |
| IUPAC Name | 5,6-dihydroxy-2-phenyl-7-[(2S,3R,4S,5S,6R)-3,4,5-trihydroxy-6-[[(2R,3R,4S,5S,6R)-3,4,5-trihydroxy-6-(hydroxymethyl)oxan-2-yl]oxymethyl]oxan-2-yl]oxychromen-4-one |
| InChI | InChI=1S/C27H30O15/c28-8-15-19(31)22(34)24(36)26(41-15)38-9-16-20(32)23(35)25(37)27(42-16)40-14-7-13-17(21(33)18(14)30)11(29)6-12(39-13)10-4-2-1-3-5-10/h1-7,15-16,19-20,22-28,30-37H,8-9H2/t15-,16-,19-,20-,22+,23+,24-,25-,26-,27-/m1/s1 |
| InChIKey | HAYLVXFWJCKKDW-IJTBWITGSA-N |
| SMILES | C1=CC=C(C=C1)C2=CC(=O)C3=C(C(=C(C=C3O2)OC4C(C(C(C(O4)COC5C(C(C(C(O5)CO)O)O)O)O)O)O)O)O |