Azulene - CAS 275-51-4
Azulene (Cat.No:R020928) is a blue-colored bicyclic aromatic hydrocarbon found in various plants, particularly chamomile oil. Its distinct color arises from a unique arrangement of carbon atoms. Azulene has anti-inflammatory and antioxidant properties, making it a valuable ingredient in cosmetics and skincare products. It's also used in organic synthesis and dyes.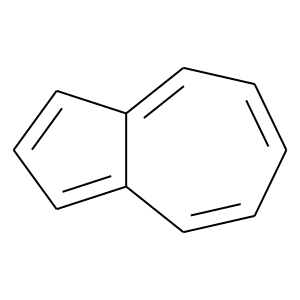 Molecular Formula: C10H8
Molecular Weight:128.174
* For research use only. Not for human or veterinary use.
Synonym
| | |
| --- | --- |
| Synonyms | Bicyclo[5.3.0]decapentaene; Cyclopentacycloheptene; NSC 89248 |
Property
| | |
| --- | --- |
| Molecular Formula: | C10H8 |
| Molecular Weight | 128.174 |
| Purity | ≥95% |
| Storage | -20°C |
Computed Descriptor
| | |
| --- | --- |
| IUPAC Name | azulene |
| InChI | InChI=1S/C10H8/c1-2-5-9-7-4-8-10(9)6-3-1/h1-8H |
| InChIKey | CUFNKYGDVFVPHO-UHFFFAOYSA-N |
| SMILES | C1=CC=C2C=CC=C2C=C1 |