AT2 receptor agonist C21 - CAS 477775-14-7
AT2 receptor agonist C21 (CAT: I017909) is a selective angiotensin II type 2 (AT2) receptor agonist. It is a non-peptide compound that specifically activates the AT2 receptor, which is a G protein-coupled receptor involved in the renin-angiotensin system. C21 has been studied for its potential therapeutic applications in various cardiovascular conditions, including hypertension, heart failure, and vascular remodeling. Activation of the AT2 receptor by C21 has been shown to induce vasodilation, anti-inflammatory effects, and inhibition of cell growth and fibrosis. C21 holds promise as a novel pharmacological agent targeting the AT2 receptor pathway.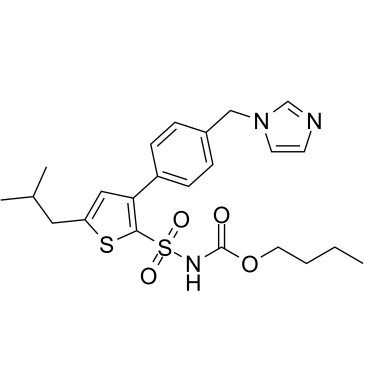 Molecular Formula: C₂₃H₂₉N₃O₄S₂
Molecular Weight:475.62
* For research use only. Not for human or veterinary use.
Property
| | |
| --- | --- |
| Molecular Formula: | C₂₃H₂₉N₃O₄S₂ |
| Molecular Weight | 475.62 |
| Purity | ≥95% |