Asiatic Acid - CAS 464-92-6
Asiatic Acid(CAT: R039716) is a pentacyclic triterpene isolated from a variety of plants, including those used in traditional medicine. It has certain anti-inflammatory effects and can also block the generation of tumor cells and tumor blood vessels by inducing cell cycle arrest and apoptosis of tumor cells. This product is used for medical research and development.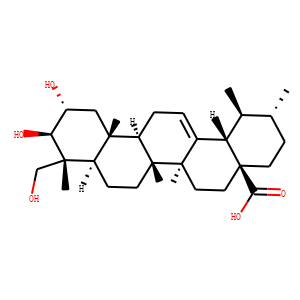 Molecular Formula: C30H48O5
Molecular Weight:488.7
* For research use only. Not for human or veterinary use.
Synonym
| | |
| --- | --- |
| Synonyms | 2a,3β,23-Trihydroxyurs-12-en-28-oic Acid; 2α,23-Dihydroxyursolic Acid; 2α,3β,19,23-Tetrahydroxy-urs-12-en-28-oic Acid; 2α,3β,23-Trihydroxyurs-12-en-28-oic Acid; Dammarolic Acid; NSC 166063 |
Property
| | |
| --- | --- |
| Molecular Formula: | C30H48O5 |
| Molecular Weight | 488.7 |
| Purity | ≥95% |
| Storage | 3 years -20C powder |
Computed Descriptor
| | |
| --- | --- |
| IUPAC Name | (1S,2R,4aS,6aR,6aS,6bR,8aR,9R,10R,11R,12aR,14bS)-10,11-dihydroxy-9-(hydroxymethyl)-1,2,6a,6b,9,12a-hexamethyl-2,3,4,5,6,6a,7,8,8a,10,11,12,13,14b-tetradecahydro-1H-picene-4a-carboxylic acid |
| InChI | InChI=1S/C30H48O5/c1-17-9-12-30(25(34)35)14-13-28(5)19(23(30)18(17)2)7-8-22-26(3)15-20(32)24(33)27(4,16-31)21(26)10-11-29(22,28)6/h7,17-18,20-24,31-33H,8-16H2,1-6H3,(H,34,35)/t17-,18+,20-,21-,22-,23+,24+,26+,27+,28-,29-,30+/m1/s1 |
| InChIKey | JXSVIVRDWWRQRT-DPJHZOGISA-N |
| SMILES | OC[C@]1(C)[C@@H](O)[C@H](O)C[C@@]2(C)[C@@]1([H])CC[C@]3(C)[C@]2([H])CC=C4[C@@]3(C)CC[C@]5(C(O)=O)[C@@]4([H])[C@@H](C)[C@H](C)CC5 |