Arachidonic Acid - CAS 506-32-1
Arachidonic acid (Cat.No:R001993) is an unsaturated, essential fatty acid. It is found in animal and human fat as well as in the liver, brain, and glandular organs, and is a constituent of animal phosphatides. It is formed by the synthesis from dietary linoleic acid and is a precursor in the biosynthesis of prostaglandins, thromboxanes, and leukotrienes.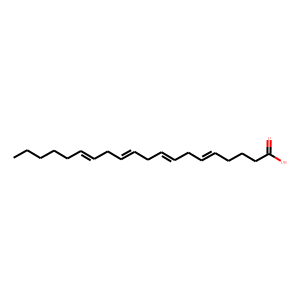 Molecular Formula: C20H32O2
Molecular Weight:304.474
* For research use only. Not for human or veterinary use.
Synonym
| | |
| --- | --- |
| Synonyms | (5Z,8Z,11Z,14Z)-5,8,11,14-Eicosatetraenoic Acid; (all-Z)-5,8,11,14-Eicosatetraenoic Acid; 5,8,11,14-all-cis-EicosaA765000, tetraenoicmmunocytophyte; Immunocytophyte; all-cis-5,8,11,14-Eicosatetraenoic Acid; cis-5,8,11,14-Eicosatetraenoic Acid; ? |
Property
| | |
| --- | --- |
| Molecular Formula: | C20H32O2 |
| Molecular Weight | 304.474 |
| Purity | 99.0% |
| Storage | -20°C |
| MDL | MFCD00004417 |
Computed Descriptor
| | |
| --- | --- |
| IUPAC Name | (5Z,8Z,11Z,14Z)-icosa-5,8,11,14-tetraenoic acid |
| InChI | InChI=1S/C20H32O2/c1-2-3-4-5-6-7-8-9-10-11-12-13-14-15-16-17-18-19-20(21)22/h6-7,9-10,12-13,15-16H,2-5,8,11,14,17-19H2,1H3,(H,21,22)/b7-6-,10-9-,13-12-,16-15- |
| InChIKey | YZXBAPSDXZZRGB-DOFZRALJSA-N |
| SMILES | CCCCCC=CCC=CCC=CCC=CCCCC(=O)O |