Apoptosis Activator 2 - CAS 79183-19-0
Apoptosis Activator 2 (CAT: I004894) is a small molecule compound that has been reported to induce apoptosis, or programmed cell death, in various cancer cell lines. It functions by activating the intrinsic apoptotic pathway, leading to the activation of caspases and subsequent cell death. Apoptosis Activator 2 has been investigated for its potential therapeutic applications in cancer treatment, particularly as a sensitizer to enhance the efficacy of chemotherapy or radiation therapy. Further research is needed to fully understand its mechanism of action and evaluate its potential in clinical settings.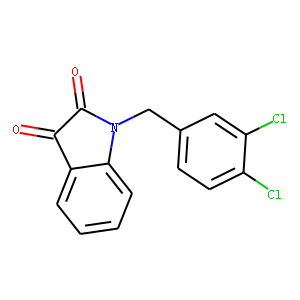 Molecular Formula: C15H9Cl2NO2
Molecular Weight:306.1
* For research use only. Not for human or veterinary use.
Synonym
| | |
| --- | --- |
| Synonyms | 1-[(3,4-dichlorophenyl)methyl]indole-2,3-dione |
Property
| | |
| --- | --- |
| Molecular Formula: | C15H9Cl2NO2 |
| Molecular Weight | 306.1 |
| Target: | Caspase |
| Solubility | DMSO: ≥ 46 mg/mL |
| Purity | ≥95% |
| Storage | 3 years -20C powder |
| IC50 | 4-9 uM(Leukemia origin cells)[1] |
Computed Descriptor
| | |
| --- | --- |
| InChI | InChI=1S/C15H9Cl2NO2/c16-11-6-5-9(7-12(11)17)8-18-13-4-2-1-3-10(13)14(19)15(18)20/h1-7H,8H2 |
| InChIKey | KGRJPLRFGLMQMV-UHFFFAOYSA-N |
| SMILES | O=C1C(C2=CC=CC=C2N1CC3=CC=C(Cl)C(Cl)=C3)=O |