Apatinib-d8 Hydrochloride - CAS 2468771-44-8
Apatinib-d8 Hydrochloride (CAT: C000565) is a deuterated derivative of Apatinib Hydrochloride, a tyrosine kinase inhibitor used in pharmaceutical research. It functions by selectively targeting and inhibiting the vascular endothelial growth factor receptor-2 (VEGFR-2), a key player in angiogenesis. In the pharmaceutical field, Apatinib-d8 Hydrochloride is a valuable tool compound for studying anti-angiogenic mechanisms and drug interactions. Its stable isotopic labeling with deuterium can aid in drug metabolism and pharmacokinetic studies, making it an asset in drug development research.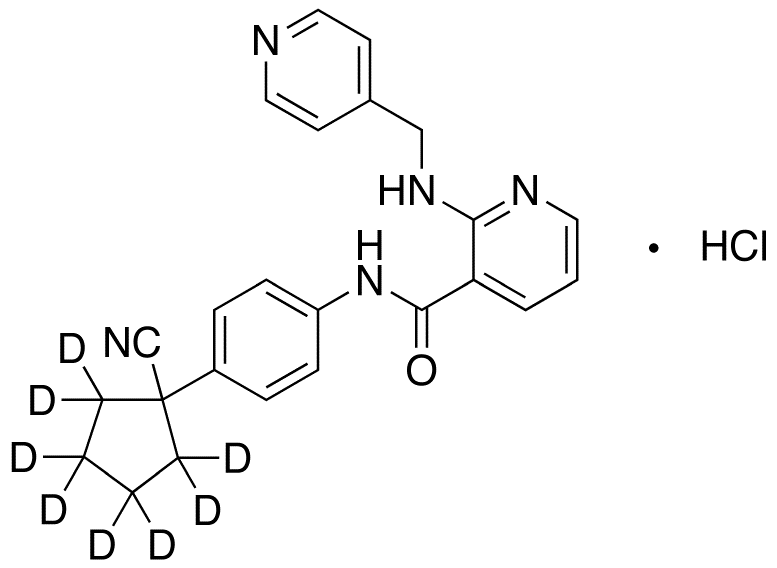 Molecular Formula: C₂₄H₁₅D₈N₅O • HCl
Molecular Weight:441.98
Appearance:Off-White to Pale Yellow Solid
* For research use only. Not for human or veterinary use.
Synonym
| | |
| --- | --- |
| Synonyms | N-[4-(1-Cyanocyclopentyl-d8)phenyl]-2-[(4-pyridinylmethyl)amino]-3-pyridinecarboxamide; YN968D1-d8 Hydrochloride; |
Property
| | |
| --- | --- |
| Molecular Formula: | C₂₄H₁₅D₈N₅O • HCl |
| Molecular Weight | 441.98 |
| Solubility | DMSO (Slightly), Methanol (Slightly) |
| Purity | ≥95% |
| Storage | 4°C |