Antimony acetate - CAS 6923-52-0
Antimony acetate (Cat No.:R071139), also known as SB(OOCCH3)3, triglyceride acetate with antimony acid, is a white powder with moderate water solubility and is used as a catalyst in polyester production.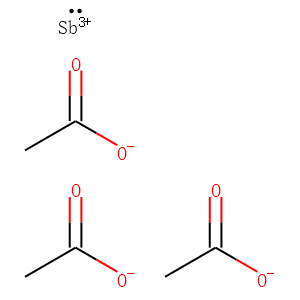 Molecular Formula: C6H9O6Sb
Molecular Weight:298.892
* For research use only. Not for human or veterinary use.
Synonym
| | |
| --- | --- |
| Synonyms | SB(OOCCH3)3, Acetic acid trianhydride with antimonic acid |
Property
| | |
| --- | --- |
| Molecular Formula: | C6H9O6Sb |
| Molecular Weight | 298.892 |
| Purity | ≥95% |
| Storage | RT |
Computed Descriptor
| | |
| --- | --- |
| IUPAC Name | antimony(3+);triacetate |
| InChI | InChI=1S/3C2H4O2.Sb/c3*1-2(3)4;/h3*1H3,(H,3,4);/q;;;+3/p-3 |
| InChIKey | JVLRYPRBKSMEBF-UHFFFAOYSA-K |
| SMILES | CC(=O)[O-].CC(=O)[O-].CC(=O)[O-].[Sb+3] |