Anidulafungin (LY303366) - CAS 166663-25-8
Anidulafungin, also known as LY303366, is a semisynthetic echinocandin used as an antifungal drug. Anidulafungin was approved on 2/21/2006. Anidulafungin has proven efficacy against esophageal candidiasis, but its main use will probably be in invasive Candida infection; it may also have application in treating invasive Aspergillus infection. It is a member of the class of antifungal drugs known as the echinocandins; its mechanism of action is by inhibition of (1→3)-β-D-glucan synthase, an enzyme important to the synthesis of the fungal cell wall. Anidulafungin inhibits glucan synthase, an enzyme important in the formation of (1→3)-β-D-glucan, a major fungal cell wall component. Glucan synthase is not present in mammalian cells, so it is an attractive target for antifungal activity.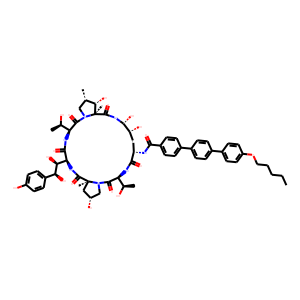 Molecular Formula: C58H73N7O17
Molecular Weight:1140.3
* For research use only. Not for human or veterinary use.
Synonym
Property
| | |
| --- | --- |
| Molecular Formula: | C58H73N7O17 |
| Molecular Weight | 1140.3 |
| Target: | Antibiotic |
| Solubility | Soluble in DMSO > 10 mM |
| Purity | ≥95% |
| Storage | Store at -20C |
Computed Descriptor
| | |
| --- | --- |
| InChI | InChI=1S/C58H73N7O17/c1-5-6-7-24-82-40-22-18-35(19-23-40)33-10-8-32(9-11-33)34-12-14-37(15-13-34)51(74)59-41-26-43(70)54(77)63-56(79)47-48(71)29(2)27-65(47)58(81)45(31(4)67)61-55(78)46(50(73)49(72)36-16-20-38(68)21-17-36)62-53(76)42-25-39(69)28-64(42)57(8 |
| InChIKey | JHVAMHSQVVQIOT-MFAJLEFUSA-N |
| SMILES | O=C1[C@@]([C@@H](O)[C@@H](C)C2)([H])N2C([C@@]([C@H](O)C)([H])NC([C@H]([C@H](O)[C@@H](O)C3=CC=C(O)C=C3)NC([C@@]4([H])N(C([C@H]([C@H](O)C)NC([C@@H](NC(C5=CC=C(C6=CC=C(C7=CC=C(OCCCCC)C=C7)C=C6)C=C5)=O)C[C@@H](O)[C@@H](O)N1)=O)=O)C[C@H](O)C4)=O)=O)=O |