Angiotensin II acetate - CAS 68521-88-0
Angiotensin II acetate (Cat.No:P000421) is a synthetic peptide that acts as a potent vasoconstrictor. It is an active component of the renin-angiotensin-aldosterone system, which regulates blood pressure and fluid balance. Angiotensin II acetate is used in research and medical settings to study its physiological effects and potential therapeutic applications in cardiovascular conditions.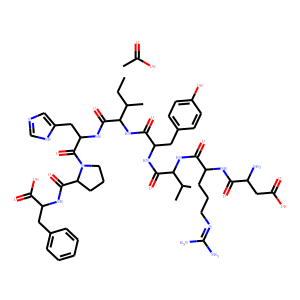 Molecular Formula: C52H75N13O14
Molecular Weight:1106.249
Purity: ≥95%
Inventory:In stock!
* For research use only. Not for human or veterinary use.
Property
| | |
| --- | --- |
| Molecular Formula: | C52H75N13O14 |
| Molecular Weight | 1106.249 |
| Purity | ≥95% |
Computed Descriptor
| | |
| --- | --- |
| IUPAC Name | acetic acid;(3S)-3-amino-4-[[(2S)-1-[[(2S)-1-[[(2S)-1-[[(2S,3S)-1-[[(2S)-1-[(2S)-2-[[(1S)-1-carboxy-2-phenylethyl]carbamoyl]pyrrolidin-1-yl]-3-(1H-imidazol-5-yl)-1-oxopropan-2-yl]amino]-3-methyl-1-oxopentan-2-yl]amino]-3-(4-hydroxyphenyl)-1-oxopropan-2-yl]amino]-3-methyl-1-oxobutan-2-yl]amino]-5-(diaminomethylideneamino)-1-oxopentan-2-yl]amino]-4-oxobutanoic acid |
| InChI | InChI=1S/C50H71N13O12.C2H4O2/c1-5-28(4)41(47(72)59-36(23-31-25-54-26-56-31)48(73)63-20-10-14-38(63)45(70)60-37(49(74)75)22-29-11-7-6-8-12-29)62-44(69)35(21-30-15-17-32(64)18-16-30)58-46(71)40(27(2)3)61-43(68)34(13-9-19-55-50(52)53)57-42(67)33(51)24-39(65)66;1-2(3)4/h6-8,11-12,15-18,25-28,33-38,40-41,64H,5,9-10,13-14,19-24,51H2,1-4H3,(H,54,56)(H,57,67)(H,58,71)(H,59,72)(H,60,70)(H,61,68)(H,62,69)(H,65,66)(H,74,75)(H4,52,53,55);1H3,(H,3,4)/t28-,33-,34-,35-,36-,37-,38-,40-,41-;/m0./s1 |
| InChIKey | VBTZKFAHKJXHBA-PIONDTTLSA-N |
| SMILES | CCC(C)C(C(=O)NC(CC1=CN=CN1)C(=O)N2CCCC2C(=O)NC(CC3=CC=CC=C3)C(=O)O)NC(=O)C(CC4=CC=C(C=C4)O)NC(=O)C(C(C)C)NC(=O)C(CCCN=C(N)N)NC(=O)C(CC(=O)O)N.CC(=O)O |