Aminooxy-PEG1-propargyl HCl salt - CAS 1895922-69-6
Aminooxy-PEG1-propargyl HCl salt is a PEG derivative containing a propargyl group and an aminooxy group. The aminooxy group reacts with an aldehyde or ketone group to form a stable oxime linkage. The propargyl group can be reacted with azide-bearing compounds or biomolecules via copper catalyzed azide-alkyne Click Chemistry to yield a stable triazole linkage. PEG derivatives may be useful in the development of antibody drug conjugates as well as drug delivery.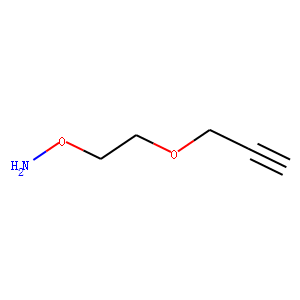 Molecular Formula: C5H9NO2
Molecular Weight:115.13
* For research use only. Not for human or veterinary use.
Synonym
| | |
| --- | --- |
| Synonyms | Aminooxy-PEG1-propargyl HCl salt;O-(2-(prop-2-yn-1-yloxy)ethyl)hydroxylamine |
Property
| | |
| --- | --- |
| Molecular Formula: | C5H9NO2 |
| Molecular Weight | 115.13 |
| Solubility | Soluble in DMSO |
| Purity | ≥95% |
Computed Descriptor
| | |
| --- | --- |
| InChI | InChI=1S/C5H9NO2/c1-2-3-7-4-5-8-6/h1H,3-6H2 |
| InChIKey | HIPBEDYVWCVJGB-UHFFFAOYSA-N |
| SMILES | NOCCOCC#C |