AMG 517 - CAS 659730-32-2
AMG 517 (CAT: I004486) is a potent and selective antagonist of the transient receptor potential vanilloid 1 (TRPV1) channel. It acts by antagonizing the activation of TRPV1 by capsaicin, protons (acidic pH), and heat. TRPV1 is a receptor involved in pain sensation and the perception of heat. By inhibiting TRPV1 activation, AMG 517 has potential applications in the treatment of pain and related conditions. Its selectivity towards TRPV1 makes it a valuable tool in studying the physiological and pathological roles of TRPV1 channels.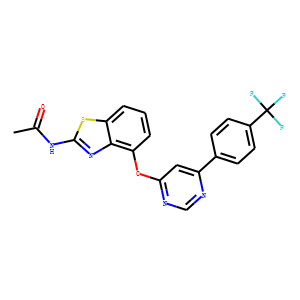 Molecular Formula: C20H13F3N4O2S
Molecular Weight:430.4
* For research use only. Not for human or veterinary use.
Synonym
| | |
| --- | --- |
| Synonyms | N-[4-[6-[4-(trifluoromethyl)phenyl]pyrimidin-4-yl]oxy-1,3-benzothiazol-2-yl]acetamide |
Property
| | |
| --- | --- |
| Molecular Formula: | C20H13F3N4O2S |
| Molecular Weight | 430.4 |
| Target: | TRPV1 |
| Solubility | in DMSO > 10 mM |
| Purity | ≥95% |
| Storage | 3 years -20C powder |
| IC50 | ~1 nM [1] |
Computed Descriptor
| | |
| --- | --- |
| InChI | InChI=1S/C20H13F3N4O2S/c1-11(28)26-19-27-18-15(3-2-4-16(18)30-19)29-17-9-14(24-10-25-17)12-5-7-13(8-6-12)20(21,22)23/h2-10H,1H3,(H,26,27,28) |
| InChIKey | YUTIXVXZQIQWGY-UHFFFAOYSA-N |
| SMILES | CC(NC1=NC2=C(OC3=NC=NC(C4=CC=C(C(F)(F)F)C=C4)=C3)C=CC=C2S1)=O |