Aluminum nitrate - CAS 7784-27-2
Aluminum nitrate (Cat No.:R071194) is an inorganic compound and salt, mainly used as catalyst, mordant, leather tanning agent, corrosion inhibitor, other aluminum salts and as a salting agent in the nuclear industry.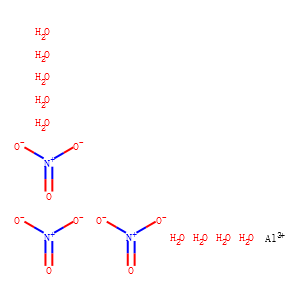 Molecular Formula: AlH18N3O18
Molecular Weight:375.129
* For research use only. Not for human or veterinary use.
Synonym
Property
| | |
| --- | --- |
| Molecular Formula: | AlH18N3O18 |
| Molecular Weight | 375.129 |
| Purity | ≥95% |
| Storage | RT |
Computed Descriptor
| | |
| --- | --- |
| IUPAC Name | aluminum;trinitrate;nonahydrate |
| InChI | InChI=1S/Al.3NO3.9H2O/c;3*2-1(3)4;;;;;;;;;/h;;;;9*1H2/q+3;3*-1;;;;;;;;; |
| InChIKey | SWCIQHXIXUMHKA-UHFFFAOYSA-N |
| SMILES | [N+](=O)([O-])[O-].[N+](=O)([O-])[O-].[N+](=O)([O-])[O-].O.O.O.O.O.O.O.O.O.[Al+3] |