Adenosine - CAS 58-61-7
Adenosine(Cat No.:A000617), is a fundamental nucleoside that plays vital roles in biochemical processes within living organisms. It is composed of adenine and ribose sugar, forming a core structure present in DNA, RNA, and energy-rich molecules like adenosine triphosphate (ATP). Adenosine acts as a signaling molecule, influencing various physiological functions such as regulating heart rate, dilating blood vessels, and neurotransmitter release. It has clinical applications in cardiac stress tests and as a medication to treat certain heart rhythm disorders. Research on adenosine continues to uncover its intricate involvement in cellular communication and metabolic pathways.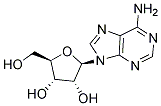 Molecular Formula: C10H13N5O4
Molecular Weight:267.24
* For research use only. Not for human or veterinary use.
Synonym
Property
| | |
| --- | --- |
| Molecular Formula: | C10H13N5O4 |
| Molecular Weight | 267.24 |
| Target: | Nucleoside Antimetabolite/Analogue |
| Solubility | Soluble in DMSO > 10 mM |
| Purity | ≥95% |
| Storage | 2-8°C |
Computed Descriptor
| | |
| --- | --- |
| IUPAC Name | (2R,3R,4S,5R)-2-(6-aminopurin-9-yl)-5-(hydroxymethyl)oxolane-3,4-diol |
| InChI | InChI=1S/C10H13N5O4/c11-8-5-9(13-2-12-8)15(3-14-5)10-7(18)6(17)4(1-16)19-10/h2-4,6-7,10,16-18H,1H2,(H2,11,12,13)/t4-,6-,7-,10-/m1/s1 |
| InChIKey | OIRDTQYFTABQOQ-KQYNXXCUSA-N |
| SMILES | C1=NC(=C2C(=N1)N(C=N2)C3C(C(C(O3)CO)O)O)N |