Ademetionine - CAS 29908-03-0
Ademetionine(CAT: I003035), also known as S-adenosyl-l-methionine(SAMe) is a naturally occurring substance that is a major source of methyl groups in the brain. The SAMe is used as a dietary supplement for the treatment of depressive syndrome and for the management of osteoarthritis (OA) symptoms. This product is used for medical research and development and other scientific research purposes.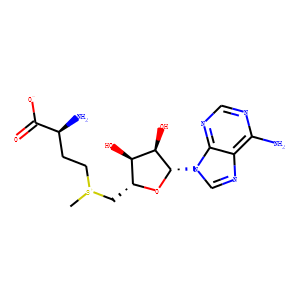 Molecular Formula: C15H22N6O5S
Molecular Weight:398.44
* For research use only. Not for human or veterinary use.
Synonym
| | |
| --- | --- |
| Synonyms | S-adenosyl-L-methionine |
Property
| | |
| --- | --- |
| Molecular Formula: | C15H22N6O5S |
| Molecular Weight | 398.44 |
| Target: | Others |
| Solubility | H2O: > 45 mg/mL |
| Purity | 98.0% |
| Storage | Store at RT |
| Related CAS. | 17176-17-9 |
Computed Descriptor
| | |
| --- | --- |
| IUPAC Name | (2S)-2-amino-4-[[(2S,3S,4R,5R)-5-(6-aminopurin-9-yl)-3,4-dihydroxyoxolan-2-yl]methyl-methylsulfonio]butanoate |
| InChI | InChI=1S/C15H22N6O5S/c1-27(3-2-7(16)15(24)25)4-8-10(22)11(23)14(26-8)21-6-20-9-12(17)18-5-19-13(9)21/h5-8,10-11,14,22-23H,2-4,16H2,1H3,(H2-,17,18,19,24,25)/t7-,8+,10+,11+,14+,27?/m0/s1 |
| InChIKey | MEFKEPWMEQBLKI-AIRLBKTGSA-N |
| SMILES | O=C([O-])[C@@H](N)CC[S+](C[C@H]1O[C@@H](N2C=NC3=C(N)N=CN=C23)[C@H](O)[C@@H]1O)C |